Gui si (Silk)
(2006)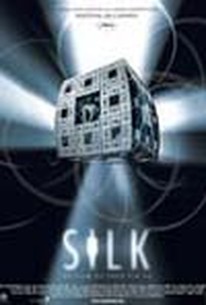 Movie Info
The ghost of a young boy haunts a Taipei apartment block in Better Than Sex director Su Chao-pin's urban spook story. Hashimoto (Yosuke Eguchi) is a paranormal investigator who uses an anti-gravitational device called the Menger Sponge to trap wayward spirits. Upon exploring a haunted Taipei apartment complex, Hashimoto and his crew capture the specter of a young boy who apparently perished under mysterious circumstances. When Hashimoto brings local policeman Yi Chi-tung in to help identify the boy, jealous ghost hunter Su Yuen (Barbie Hsu) makes a tragic attempt to steal the ghost that leaves Yi free to release and follow the spirit. As Yi's turbulent past slowly begins to come into focus, another, more malevolent supernatural force somehow related to the boy threatens to rain doom down on all involved in the investigation. ~ Jason Buchanan, Rovi
Critic Reviews for Gui si (Silk)
Audience Reviews for Gui si (Silk)
½
This isn't an absolute travesty like most of the shit Tartan distributed in its twilight hour, but it isn't very good either. Props for an ambitious, if not perfectly-realized, plot, and for avoiding a surprising amount of Asian horror cliches. Yes, THAT ghost is still rammed down our throats wholesale, but Silk is blessedly free of familial dissolution and inexplicable female rivalry and all those themes that were original ten years ago. Despite noble intentions, Silk is constructed like a typical American thriller on about a tenth of the budget, which leaves the movie feeling anywhere from unmemorable to straight-up hilarious. There's a fantastically bad CGI car crash near the end, one that could have been much more effective with a cut to a black screen and screeching tires. This feels like the product of someone who watched a lot of American films but didn't know what made them work. Between that and the performances (one decent from our protagonist, one completely atrocious from singer Karena Lam, and the rest falling on some side of bad), Silk just doesn't have what it takes to get off the ground. Not recommended unless you're really jonesing for some Hong Kong horror.
Drew Smith
Super Reviewer
After a great deal of trouble, a group of scientists have managed to trap the ghost of a child in a room. The room is secure and the ghost is unaware he is trapped. The physicists, with the help of a lip reader, aim to discover who the boy was and why his life force remains by studying the boy's occasional words and keeping a detailed, timestamped diary of his actions. They can only study him from a distance, since he has killed before and presumably would again. This intriguing setup, a post-postmortem of sorts, has the groundwork for what could be a very interesting stage play. The rest of the film, unfortunately, is a complete mess. A hodge-podge of fantasy, pseudo science and asian ghost horror, the film fails ultimately not because it is too ambitious but because it does not fully commit to its ambitions. The pseudo-science is used alternatingly as a plot device, as a key point and as an excuse. The horror elements are tired, ineffective and lacking in atmosphere. The whole film has the sleek, shiny look, feel and structure of a Hollywood production (of a Taiwanese screenplay), car chase and overuse of CGI included. It's a shame the film never came together, because this was quite the missed opportunity. Surprisingly original and ambitious, with a broad range of themes and an emotional core, different circumstances might have made something special out of this.
½
Slow and tedious..this ghost movie is not scary in the least. Watching a child ghost walk about is not eerie the way this movie is presented...its a hodge podge of sci-fi blended with some theoretical menger sponge..its the application of such theory that is almost laughable in this movie..this movie may hold your interest but if you are looking for scares and jolts, look elsewhere...
Gui si (Silk) Quotes
There are no approved quotes yet for this movie.