Suburban Mayhem
(2006)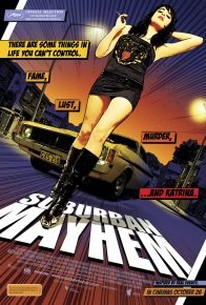 Movie Info
"Suburban Mayhem" is a sexy black comedy drama which tells the story of Katrina Skinner, a 19-year-old single mum who plans to get away with murder. Katrina lives in a world of petty crime, fast cars, manicures and blowjobs. A master manipulator of men living at home with her father in suburban Golden Grove, Katrina will stop at nothing to get what she wants, even murder. When her father threatens to contact social services and take away her child, Katrina sets in motion a plan to wreak suburban mayhem that will leave a community in shock and Katrina infamous in a way even she never dreamed of.
Critic Reviews for Suburban Mayhem
Audience Reviews for Suburban Mayhem
Wow! A lot of hate for a film that I found very cheeky and being tremendously good black humour. I was wondering where Emily Barclay and other members of the talented cast ended up but seeing how panned this film was, perhaps they are hiding under the bed.
John Ballantine
Super Reviewer
Quite a funny and unusual film that I enjoyed. A must see!
Bethany Murphy
Super Reviewer
½
For all my displeasure at the Australian film industry for making pathetic film after pathetic film, I will acknowledge when we get off our arses and make something to be proud of (I'd liken it to putting a child's picture on the fridge but that seems patronizing somehow). That's not to say this is the only Australian film I'm a fan of (The King and of course, The Castle help in that area) but it won me over quicker than either of those. The film details the life of Katrina Skinner (Emily Barclay, who is able to play such a dark, repulsive woman despite little experience in film like she's turning a light switch on and off) and is also filmed in part like a "documentary" (I say it in air quotes since I don't want people thinking this is based on true events) about her, involving events towards the end of the film which I won't go into since it might spoil the movie. Katrina's an uncontrollable, self-absorbed party girl with criminal tendencies... and a mother. Yep, that's an oil/water mixture right there. The mother part is important since over the film, many people ask her about her child and why she doesn't see her more often. In short, she's a bogan. For overseas readers, bogan is Australia's counterpart to the USA's "trailer trash" and the UK's "chavs". Despite my contempt for the character, I highly praise Emily Barclay for her performance. Still quite new to films, she has to carry a majority of this film and play someone so easy to hate and like I said, she pulls it off with ease. I wonder what surprises she'll pull out on us in the future, perhaps something to make this look like child's play. Another high point of note for me is the music. Rock songs with female vocalists, most I'm familiar with and all welcome. Added bonus, most of them are Australian (Suzi Quatro being the most notable exception I care to make but hey, if I can hear 48 Crash, I'm not one to complain). During a scene in a shopping centre, the song Paco Doesn't Love Me by The Spazzys can be heard and later on in the film, we can hear Little Birdy's song This Is A Love Song. Australia may not be all that great in the film industry but when it comes to music, we've got a few aces up our sleeve. I hope it's not too long before another Australian film overwhelms me like Suburban Mayhem. I still need to get the thoughts of The Book Of Revelation exorcised from my mind.
Suburban Mayhem Quotes
There are no approved quotes yet for this movie.