Princess
(2006)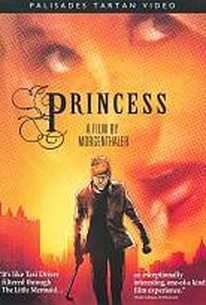 Movie Info
When his sister dies, 32-year-old August returns home, abandoning his profession as a missionary priest. His dear sister Christina, known as Princess, was a famous porno film star who went from fame to decline. She has died after years of drug abuse. She leaves a daughter of five, Mia, whom August feels duty-bound to care for. Overwhelmed by grief and guilt, August decides to avenge Christina's death by destroying all the pornographic material in which she appeared. He takes the little girl on what he sees as a mission. It quickly escalates in a spate of violence.
Rating:
NR (pornographic scenes, do not activate)
Genre:
, ,
Directed By:
In Theaters:
On DVD:
Runtime:
Critic Reviews for Princess
Audience Reviews for Princess
½
Princess is definitely not your average animated movie, and it's not your average revenge flick either. The animation style is somewhat simplistic but it works. More jarring are the flashbacks that are presented in actual film- not animated segments- and in certain cases this proves quite effective and unsettling. I found much of the film to be excellent; August and Mia's interaction, and the damage inflicted on them by what has happened feel very real. It's a cut above the recent revenge cinema that's come out in the US (The Brave One, Death Sentence). My only issue with the film is that it seemed to come apart at the end. I won't go into specifics, but while I didn't expect or even hope for a happy ending, the ending that I got just seemed contrived and inept. It didn't seem to fit with the rest of the film. Disturbing, violent, and sad. Princess has content which makes it tough to recommend to most viewers.
Lurple J.
Audacious, original mix of live action and anime to tell a disturbing tale of corrupted youth.
Gordon Anderson
Super Reviewer
½
Brilliant! Reminiscent of Bakshi's early work, this is one great vigilante film. The animation really works, adding a cartoony feel to a very grim and disturbing story. Choosing the "villain" to be the porn industry was another stroke of genius. If this doesn't make you feel a tad guilty the next time you decide to surf the net for that "special occasion" nothing will. Great stuff.
Christopher Brown
Super Reviewer
Princess Quotes
There are no approved quotes yet for this movie.