Alone in the Dark
(1982)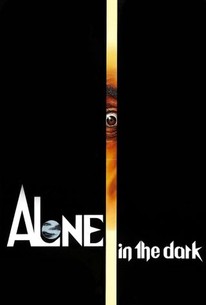 Movie Info
During a city-wide blackout, four clinically insane murderers escape from a mental asylum and seek out the home of one of their psychiatrists. The psychiatrist is forced to resort to whatever means necessary to protect his family from the invaders in this suspenseful horror film.
Critic Reviews for Alone in the Dark
Audience Reviews for Alone in the Dark
½
A lot in this movie is stupid or makes no sense when you think about it - like the truth about the Bleeder's face and how that asylum doesn't have any emergency generator -, but it has its moments and Palance, Pleasence and Landau seem to be having crazy fun as sick f***s.
Carlos Magalhães
Super Reviewer
Interesting Slasher using the traditional atmosphere and suspense elements to tell the story, Alone in the Dark is really one of those films that separates itself from the pack and offers a true, tense and horrifying viewing experience. The film does have plenty of bloodletting, but is much different because it has a good mix of suspense and actual scares intertwined with the killings. There's a good film here, one that is very underrated and is actually one of the better Slasher films of the early 80's. This is a smart film in the genre, one that doesn't go overboard on the blood or gore. Director Jack Sholder keeps everything together with a fine suspenseful atmosphere, a well written script and a good cast of talented actors. Fans of the genre should check out this somewhat obscured horror gem. If you're looking for a well executed Slasher film, then this film is for you. The standouts of the film are the three main actors, Jack Palance, Martin Landau and Dwight Schultz. They really are menacing and perfect as psychos. This is one of those films that were basically forgotten among the countless Slashers films the 80's. However if you must come across it, give it a shot. The films tense, suspenseful atmosphere really adds something unique to this film. Along with Just Before Dawn, Alone in the Dark goes a different direction in the Slasher genre, one that shows that the genre has more to offer than the standard hack and slash elements. Though far from perfect, this film still is a must see for fans looking an atmospheric Slasher film to watch. This film mixes very well done tense scenes with everything you'd expect from the genre. There's always something going on, on-screen to keep you entertained and even with its flaws, it's one good film, worth watching.
Probably the best movie I've seen during this marathon. 'Alone in the Dark' is trenchant, intelligent and gleefully pulpy with Oscar-winning actors at their scenery-chewing maximum. Martin Landau, with glassy eyes and a Grinch-like smile, quotes scriptures as if he were on high and the simple task of wishing someone "happy trails" is an uproariously strained feat for Jack Palance's powder keg Frank who ladles menace during quiet walks through a mental asylum's courtyard. Sholder, who directed the underrated 'Nightmare on Elm Street 2', is a powerhouse director and writer who deftly explores the wayward perception that people moshing to a band named "The Sick Fucks" is more insane than the tranquil innards of the institution. The best scapegoat for a parody of psychological coddling is Pleasance who labels the inmates' rampage as a "cry for help". Sholder posits that armchair psychiatrists prefer pat, non-threatening rationalizations with the John Locke view that humans are "inherently good". Thought-provoking and flamboyant visceral, 'Alone in the Dark' is a marvelous thriller that shouldn't be as misbegotten as it has been.
Cory Taylor
Super Reviewer
Alone in the Dark Quotes
There are no approved quotes yet for this movie.