The Ugly Duckling and Me!
(2006)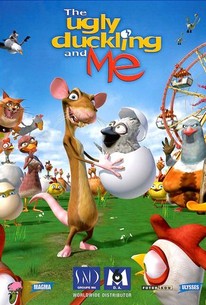 AUDIENCE SCORE
Critic Consensus: No consensus yet.
The Ugly Duckling and Me! Photos
Movie Info
Filmmakers Michael Hegner and Karsten Kiilerich offer an updated variation on Hans Christian Anderson's beloved classic in this computer animated tale of a tough-luck rodent con-artist who befriends a homely hatchling with a most unusual talent. Ratso is a traveling scammer who longs to break big in the profitable world of show business, but when Ratso ends up on a duck farm and becomes the caretaker of a distinctively large egg, he is about to find out the true meaning of friendship. As the egg cracks and a most unsightly hatchling emerges, Ratso nicknames the feathered infant "Ugly" and reluctantly finds himself assuming the role of the chick's de facto father. This isn't your average baby duckling though, because Ugly possesses a talent that audiences will no doubt flock to see. As dollar signs flash before Ratso's eyes and he schemes to make a killing by exploiting the unassuming young innocent, the unlikely pair embark on an adventure-filled journey that may just find the heartless rodent realizing that there is much more to life than making a quick buck. ~ Jason Buchanan, Rovi
Critic Reviews for The Ugly Duckling and Me!
There are no critic reviews yet for The Ugly Duckling and Me!. Keep checking Rotten Tomatoes for updates!
Audience Reviews for The Ugly Duckling and Me!
½
Not really a bad movie, children will appreciate some overarching lessons about human relationships if they're not too confused by the conflicting details. Irony is that what's perhaps most dissatisfying about this movie is where it does resemble Hans Christian Anderson's original fairy tale, the meandering from one apparently unrelated scene to the next in order to fill out the prerequisite playing time of a feature-length story. Adult aspects of storytelling seem to be tempered for younger audiences, resulting in implausibly denied reality: a predator is evil and deadly, then suddenly friendly. Another predator appears to have killed and then victim turns up alive. Similarly another villain turns out not to have wanted to kill them at all. Sudden growth spurts turn the title "duckling" into different personalities overnight, again hearkening back to Hans Christian Anderson's original story wherein the character becomes a swan whether or not preceding learning experiences have contributed to his becoming a better, or at least more attractive, person. Lesson here is for parents to identify with their own dealings with growing kids, but logistical problem of starting out with one character and then abandoning it is a jarring technical point the audience is going to resent. Admittedly, The Ugly Duckling and Me! is attractively filmed and animated, a plus for its acceptance by younger audiences, however intelligent these kids are. Voice actors are talented and well cast. Little tweaks in the writing of the dialog might have smoothed over inconsistencies.
Steven Vincent Gee
Super Reviewer
Low budget and low quality in all aspects. The animation never enchants with only the character designs being a refreshing change. Unfortunately seeing them in motion is just painful to watch. The story is tired as are it's messages. No originality has gone into the creation of this film. The humour is non-existent and the voice cast are bland and over the top. Only interesting parts involve a delusional cat with a chicken puppet.
Luke Baldock
Super Reviewer
The Ugly Duckling and Me! Quotes
There are no approved quotes yet for this movie.