The Island
(2007)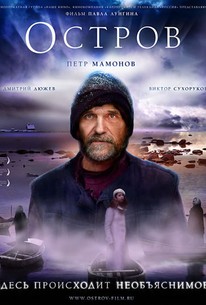 Movie Info
Somewhere in Northern Russia in a small Russian Orthodox monastery lives an unusual man whose bizarre conduct confuses his fellow monks, while others who visit the island believe that the man has the power to heal, exorcise demons and foretell the future.
Rating:
NR
Genre:
,
Directed By:
Written By:
In Theaters:
On DVD:
Runtime:
Studio:
News & Interviews for The Island
Critic Reviews for The Island
Audience Reviews for The Island
An unusual tale about a monk whom could heal the sick and had the gift of prophecy! He exhibited the strange behaviors of Fools for Christ and often challenged/pranked his fellow monks in an attempt to make them become better monks! While quirky and humorous at times the story kept faith, sin and redemption in the forefront! The film had a slow deliberate pace! The story itself was mesmerizing due in large part to Father Anatoly being such a colorful character! The man whom played Anatoly (Pyotr Mamonov) did a superb job in bringing Father Anatoly to life on the big screen!
Juli Norwood
This is a monochromatic and very slow movie, and everyone and everything seems to be literally dirty. Therefore, it is not for everyone's taste. A father (Anatoly) is a holy man, and people from all over come to the island where he lives in order to ask him guidance or to be cured. He is part of a monastery in the island but he doesn't follow any rules besides the fact that he foretells the future and nothing is a surprise for him. As any other human being, he is also a sinner, and he feels tormented by his sin. Therefore, he doesn't feel special but his fellows are a little jealous or confused about his condition. He believes we are all sinners, but we have to try to not sin too much. He is illiterate, and he keeps asking why Cain killed Abel because he can't remember... Well, Cain killed Abel because he was not able to recognize his mistake by not having his offering accepted and, instead, he prefers to blame Abel for his failure. This is the first murdered registered in history, and it is still a remarkable metaphor to talk about our own difficulty when comes to face our own mistakes.
Claudia Feitosa-Santana Hernandez
Film of a holy man & hermit in a gray world heavy with sin. The island is located somewhere in Russia's icy White Sea. The biopic directs some well-deserved scrutiny onto Anatoly's title as a "saint." Able to see the future, cure wounds & exorcise demons, his occasional jokes make him look crazy & although he is never less than morally upright. It is a backdrop for a study of spiritual crisis that is predictable. The films monochromatic color palette is also predictable. The prologue, with young, Anatoly Tribuntzev) accidentally shooting his superior, Tikhon (A Zelenski), at the behest of Nazis. When his boat sinks, Anatoly washes ashore on a nearby island, where he builds a cult as a monk with uncanny powers of healing & foresight. 1976, & the older Anatoly (P Mamonov) spends much time crossing the beautiful bleak landscape, asking the Lord Jesus to remove his transgressions, & if it weren't for some telling flashes of humor, this films look at this spiritually miserable monk would be completely wasted. His faith feels fake but his sense of remorse does not. His interactions with the people who come to him for help give the film added dimension. He advises with equal amounts of sanctimony & humor, suggesting both a conflicted relationship with God but also a need to grapple with boredom. When he tells a widow that her husband is still alive & that she should slaughter her pig, sell her farm, & move to France to find him, there is a sense that he recognizes his own struggle in hers & that he is lying to her in the interest of ushering her past weeks of ritual of mourning. Does this mean he resents his service to God? After exorcising a demon from a young woman, a person from Anatoly's past appears, & though the stage seems set for an examination of the man's regret for having wasted his life, director Pavel Lungin has long blown lost the plot on the chilly vistas of the White Sea to care much, & so Anatoly's crisis never feels resolved, simply dissolving into the haze of the film's Orthodox Christian pageantry
dfw foreignbuff
The Island Quotes
There are no approved quotes yet for this movie.
Discussion Forum
Discuss The Island on our Movie forum!