Cocaine Cowboys
(2006)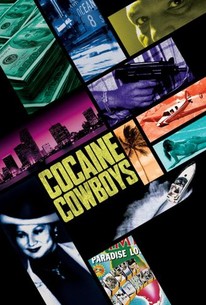 TOMATOMETER
AUDIENCE SCORE
Critic Consensus: As frenetic, thrilling, and lacking in subtletly as its drug of focus...and just as likely to prompt some hard questions after it's gone.
Movie Info
When brutal Colombian cocaine lords moved to Miami in the early '80s, they brought with them a form of decadence, drugs and debauchery that hadn't been seen since the Prohibition days. This stylized, high-energy film reveals how Miami went from a sleepy southern city to a drug-and-murder capital, as told by the people who put the vice in "Miami Vice."
News & Interviews for Cocaine Cowboys
Critic Reviews for Cocaine Cowboys
Audience Reviews for Cocaine Cowboys
½
Cocaine Cowboys is an interesting documentary about the cocaine trade in Miami in the 1970's. The subject is fascinating and the interviews are from the guys who took part in the illicit trade. Jon Roberts and Mickey Munday recount their experience. The film also takes a look at the lawlessness of Miami due to Cocaine wars. This film is raw, gritty and intense. The film is quite good, but due to kinetic editing and awkward pacing, it is hard to follow. It almost feels like the director didn't know to find a perfect pace for the film. Aside from that, this is still entertaining and there is plenty of information that will bring to light this interesting subject. This is not a film for everyone, but it is a must see for people interested in true crime subjects. This is a compelling film, but it should been done better. The way it was put together feels amateurish, but luckily enough the subjects tell a good account of events, which what makes this standout and overcome its flaws. Some of the accounts are quite bone chilling and disturbing. This is a worthwhile documentary, but not the best I've seen. The film feels like a made for TV documentary, but nonetheless it's interesting for what it is, but is not a film worth watching again and again. Cocaine Cowboys is flawed of course, but if you love true gangster stories of real accounts, then this is the film for you, but be warned, it's not well edited and it feels a bit rushed in terms of the way it was filmed. For such a topic, you'd think that it would be a great documentary, but it's merely a good one at best.
Very gripping account of the history of the drug trade, and how it transformed the U.S into a crime-infested war zone. Centered around interviews with some of the pivotal names behind the killings and smuggling, we get a shocking inside-look into the minds and events that got it all started. What's scarier yet though, is that many of these cold-blooded murderers and morally depraved criminals, bear the faces of ordinary people, that you'd never imagine to be taking lives for a living. Such as the reign of the "The Godmother" - a Colombian woman who for a while ruled the underworld for the Medellín Cartel. A truly despicable human being, who would send assassins to murder children, for the simple reason that they belonged to a rivalling family. Or as in the case with one of her hitmen, Jorge "Rivi" Ayala, who brags in the interviews about the countless killings he did for The Godmother. It left me with a bad feeling in the stomach, just hearing about the sick and evil atrocities of these heartless monsters. In spite of this though, I was thoroughly compelled by the stories shared with us. It dispels a lot of the illusions created by Hollywood and popular media, while at the same unveiling that sometimes reality transcends the fictional. A truly horrifying exposé, but also brilliantly constructed and compellingly absorbing. A word of warning for those planning to see this though: the imagery of this film is at times extremely gruesome and disturbing. So much to the point that I would label it as snuff. If you can endure that, however, then I can highly recommend this very thought-provoking and emotionally stirring documentary.
½
Billy Corben's stunning documentary details the inner workings of Miami's cocaine cartel by soliciting testimony from the people who made it happen. WARNING: some of the crime scene photos and stock news footage is graphic.
Randy Tippy
Super Reviewer
Cocaine Cowboys Quotes
There are no approved quotes yet for this movie.