Gone
(2007)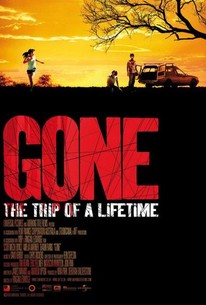 Movie Info
The Ringan Ledwidge-directed, Andrew Upton and James Watkins-scripted psychological thriller Gone (a U.S.-British-Australian co-production) follows in the footsteps of such shockers as The Company of Strangers and Kalifornia, as several innocent, unwitting young travelers inadvertently find themselves at the mercy of a psychotic outsider who poses as a Good Samaritan. The story unfolds in the Australian outback, with Alex (Shaun Evans) en route to visit his girlfriend Sophie (Amelia Warner) in Byron. His intended plans take an unexpected left turn, however, when he misses his bus and accepts the offered assistance of another traveler, the seemingly benign American Taylor (Scott Mechlowicz). The men agree to spend the evening together and partake in a night of drunken excess with several women, but the next morning, Taylor takes a potentially incriminating Polaroid of Alex in bed with one of the girls. He nonetheless assures Alex that he has destroyed it, which assuages Alex's fears temporarily. When the men decide to remain together and travel across the outback with Sophie and her friend Ingrid, however, signs of duplicitous and shady behavior emerge from Taylor - including his overt sexual interest in Sophie, the threatening resurgence of the Polaroid, and Ingrid's sudden, inexplicable disappearance.
Audience Reviews for Gone
½
This thriller story set against the searing skies of Australia's brutally beautiful outback is familiar between the true story of British's Joanna Lees and Australia's Wolf Creek. But it's different on about a friendly stranger who was trying to take over the British backpacker's girlfriend.
Dean McKenna
Super Reviewer
Very average psychological drama with no surprises but acceptable performances.
Gordon Anderson
Super Reviewer
"In the tradition of WOLF CREEK" it says, but it's really more like THE HITCHER... if you took all the thrills from that movie and stuffed them into the last five minutes. Largely unimpressed by this one.
Gone Quotes
There are no approved quotes yet for this movie.