Banished
(2007)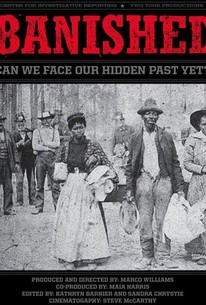 Movie Info
Racism in America has manifested itself in a grim variety of ways, and throughout the 19th and 20th centuries, it was hardly uncommon for communities to make African-Americans feel unwelcome outside of ghettos in the poorest side of town. However, some cities took a more aggressive stance against citizens of color, and a number went so far as to stage vigilante pogroms in which the entire black population would be forcibly expelled under threat of violence. Documentary filmmaker Marco Williams examines this hidden side of America's racial history in Banished, which focuses on four examples of primarily white communities rising up to force their African-American neighbors to flee, in incidents which took place in Texas, Missouri, Georgia, and Indiana between 1886 and 1923. Banished was screened in competition at the 2007 Sundance Film Festival.
Rating:
NR
Genre:
,
Directed By:
Written By:
In Theaters:
Runtime:
Studio:
Working Films
Critic Reviews for Banished
Audience Reviews for Banished
Great documentary, but not so much about how whites drove blacks out of these towns as how we should deal with that legacy today. Should we pay reparations for these specific , traceable abuses? What should these still all-white towns do today to make peace with the past?
Amanda Conde
Some surprising revelations, but not enough intimacy to sustain a feature documentary. Should have focused more on the families who are still coping with trying to earn back what is rightfully theirs.
J M
[font=Verdana][size=2]Through three separate and deeply personal tales of racial injustice, as well as visits to towns in the deep south where black residents were forcibly driven out around the turn of the century, Marco Williams paints a picture of an historic violation of human dignity. We first meet up with a family of descendents, whose ancestors lost valuable property in their reprehensible expulsion. This helps set the table for the more intimate stories to come. The movie really picks up, however, when Marco visits the town of Pierce City, Missouri. From here, we hear the story of a man who is struggling to get one of his family members' body exhumed from its current resting place and moved back into his home town, and we see Marco himself playing to a community crowd who breezily use the term "colored people" in their own racial discussions with the filmmaker. One woman even visibly stops to consider what the proper term would be, before awkwardly sputtering out the aforementioned denomination, as un-PC as it might be to urban ears. Marco recognizes that it's not easy to talk to people about race, yet handles every interview with the care and tempered attitude (even when speaking with a local clansman) that facilitates an open discussion with each town's residents. Not every African-American filmmaker can make a subject freely admit to moving into town for the primary reason that there are "no blacks." The film benefits greatly from the candor of these interviews, and there are enough experts and intellectuals that explain the historical aspects of the story to keep an eclectic mix of opinions and insight. [/size][/font] [font=&quot][font=Verdana][size=2] What makes this movie an intriguing thought piece is also the nuanced approach toward the idea of reparations. In Marco's narration, he acknowledges that he himself does not know the solution to the problem of stolen land, this far removed from the time in history. After all, it's not the fault of the people who live on the land now. What do they owe? And what is owed the descendents of those whose land and goods were taken from them? How do you begin to pay them back? Marco approaches this question with the welcome ambivalence of a man who has more questions than answers, and that's why the very end of the film is such a disappointment. Displayed onscreen are the highly clichéd images of Washington D.C. landmarks as text describes the seemingly unfair history of reparations in this country (They were given to family members of interned Japanese citizens, but not for slavery, e.g.). It ends with a rallying cry for unequivocal reparations that feels in poor taste tacked on to the end of such a personal and well-balanced film. This off-putting finale is easy to forgive, however, (as is the clumsily worded subtitle to the film) in a film that is so rich with history, personal struggle, and cultural examination. On a personal note, the director of this film, Marco Williams, was my documentary production professor and advisor through my college career. I have learned a lot from him and appreciate greatly his guidance. Marco, if you're reading, thanks a lot! It's a great film, man. [/size][/font]
Matthew Farler
Banished Quotes
There are no approved quotes yet for this movie.