Snow Blind
(2006)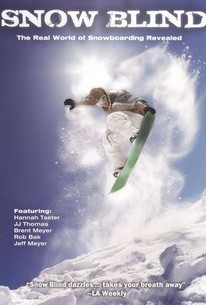 TOMATOMETER
AUDIENCE SCORE
Critic Consensus: No consensus yet.
Movie Info
When snowboarding first appeared on the winter sports scene, it was regarded as a novelty by many who saw it as the snowbound equivalent of skateboarding. But just as skateboarding grew from a pastime for rebels and punk rockers into the vanguard event of the extreme sports revolution and the hobby of millions, snowboarding has done the same for winter athletics, and its introduction at the Winter Olympics has allowed it to become one of the first sports to move from the "extreme" underground to acceptance by the mainstream sporting community. Snow Blind is a documentary which examines the past and present of snowboarding, as some of the world's leading boarders and key behind-the-scenes figures talk about the history and philosophy behind the sport, as well as showing off some of their most spectacular moves on the powder. Snow Blind includes footage of Kier Dillon, Abe Teter, Steve Hayes, Molly Aguirre, Brent Meyer, Luke Mitrani, Kimmy Fasani, Sherman Poppen, and many more.
Critic Reviews for Snow Blind
Audience Reviews for Snow Blind
So I want to start snowboarding because my cousins snowboard and it looks like a ton of fun. I decided to watch this documentary just to learn a little more about it. The documentary overall is very informative. There's a lot of good information and awesome snowboarding shots that were pretty cool to watch. However, I think this documentary is a little TOO informative. Instead of taking one aspect of snowboarding and focusing in on that, this film takes a whole bunch of different aspects of snowboarding (e.g. disabled snowboarders, girl snowboarders, dangers of snowboarding, corporate sponsors, snowboarding tricks, etc.) and shows multiple perspectives (e.g. pro snowboarders, inventors, casual riders, olympic competitors, etc.) on each sub topic. It's way too much. The topic for this film is "What is snowboarding?" which was the main question asked at the beginning of the film. That was a really broad topic to go with, and who really is the target audience for that? The film deviates from the definition of snowboarding throughout the film, but somehow manages to get back on track near the end. If the movie had gone with a more specific topic about snowboarding (I would've gone with the young riders trying to go pro to help them get sponsored...) then I think this documentary could've been really amazing. The topics featured in this film were really inconsistent. Each sub topic was either lightly touched upon or completely explained in full on detail. Abe Teter's family, for instance, was featured for a long, long time. I really didn't care who Abe or his family were, how they work out, how long they've been riding, etc. It went into full detail about his life and his sibling's life and it got really boring. On the other hand, when the film focused on the dangers of riding and what can go wrong, it was pretty short and wasn't informative at all. I basically was told that snowboarding is indeed dangerous and a bunch of riders broke this and that by doing some trick. I didn't really get to find out much about how dangerous it is. There's no safety tips or anything mentioned in the film? I think I learned more from reading an issue of Transworld Snowboarding for 5 minutes then watching this for 90. Also, why were there like 100 wipeout shots? Yeah they were pretty sick, but that was a lot of unnecessary footage. Like yeah, I get it--people aren't perfect. I wish this documentary was a little more organized. It was pretty much a jumbled up mess with flashes of badass snowboarding shots scattered throughout.
Snow Blind Quotes
There are no approved quotes yet for this movie.