Slipstream
(2007)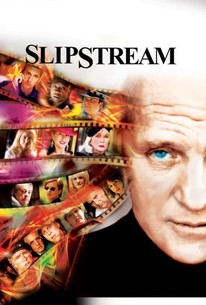 Movie Info
Aging screenwriter Felix Bonhoeffer has lived his life in two states of existence--the world of reality and the world inside his head. Hired to rewrite a murder mystery set in a desert diner and unaware that his brain is on the verge of implosion, Felix is politely baffled when the characters from his movie start showing up in his life and vice versa. Felix tries to maintain his equanimity as reality and fantasy collide in an increasingly whirling slipstream, while his memory banks fire off seemingly random references to songs and sci-fi movies from the Fifties.
Critic Reviews for Slipstream
Audience Reviews for Slipstream
½
"A scriptwriter sees the line between his characters and real people begin to blur"... sounds good on paper, doesn't it? I'm sure the studio thought so when they green lighted this bit of excessive hubris, especially when it was pitched by Anthony Hopkins, who was chief cook and bottle washer for the project - being writer, director, actor and what the heck, even wrote and performed most of the background music. Wow, what could possibly go wrong? Well nothing unless Hopkins spent many a day imbibing mind altering chemicals while discussing states of alternate realities with David Lynch. Sadly, all these ruminations concerning what is "real" only ends up being a cheap cop out where the threadbare seams of a script apparently written on the fly are readily apparent. As one of the characters bemoans "we've lost the plot". Indeed! While this film doesn't have 7 foot tall rabbits or dancing dwarves, it is very Lynchian in its approach and tone - but instead of giving you the feeling that you are watching something profound that you just aren't seeing quite right, Slipstream is like a high school play with bad acting - too obvious and a one trick pony, with little wink, wink asides meant to cover up the fact that the film is short on vision and all too proud of its, I will confess, nifty concept. Perhaps Hopkins had a clear vision for this film, but regardless it comes off as uneven and you suspect that Hopkins may have been having a jab at the industry and fans that enabled him the opportunity to stroke his vanity. As the film fades to black you hear laughter and a bit of a looney tunes melody - some big inside joke or an attempt to say "yeah, this is all a mess so I might as well admit it". Personally I think the film could certainly used a bit of collaboration - by allowing Hopkins free reign, he could indulge his whimsy with no-one to tell him that you can't mess with the audience by using slight of hand; passing off lazy continuity and a lack of clarity by claiming that Slipstream is time moving backwards and forwards at the same time - ok, even if you buy into the alternate reality stuff, there's still no excuse for having no character development whatsoever. In the end, one could support the supposition that the entire film was all in Hopkins' head - a dream within a dream, so to speak - and art imitating life (or vice versa). In surer hands I think that there could be relevance here, but as it stands you end up with a bit of overindulgence that, for me, had only one redeeming moment: when the owner of Dolly's Diner makes an appearance, looking like Dolly Parton and when asked her name she winks at the audience and says "I'm the character playing the Dolly Parton look a like".
paul sandberg
Super Reviewer
½
As I write this segment at 59mins in, I can't decide if this film is brilliant or pretentious. Certainly the first third (and pretty much all) of the camera work that isn't a jump cut is pretentious (esp the color changes are not earned). And this second third I've just finished is plain brilliant, a new sendup of movie production on par with The Player, Swimming with Sharks, and Day of the Locust. I do know that however I turn out feeling about this movie in the end, I will probably rent the DVD and do tons of research on how/why Hopkins put this project together. Okay, resuming screening. 1:hr10mins: this movie is tripping me out, but also annoying me too(again with the unearned color and cutting "style"). Okay, the SAVE creen is awesome! I'm totally geeking out on the writer aspects too, cuz it's like very much in the vein of a William S. Burroughs or Philip K. Dick confrontation b/w the self and reality. Perhaps other writers oft wonder if their lives will turn into that blur of story and objectivity; the multiple layers of reality that stack themselves before us cannot be ignored and must be grandly experienced, like a fever dream spanning a few decades. This film captures that very well. It is all really hinging on the last 10-15mins though. Alright, I thought it was awesome with the horror detour to the framed beginning/ending tragic device. Awesome as Schizopolis or Adaptation or Naked Lunch? Hellz NO. But I enjoyed; others will rate 3 to 3.5. I give it that extra bump just because the stylistic blend confused and angered me in a kinda fun way.
_kelly .King
Super Reviewer
½
Kudos to Anthony Hopkins for trying something fifty times more creative and ambitious than any other actor-cum-director would, but this just didn't work for me. You can't pull off David Lynch unless you're actually David Lynch, and that's solely based on name recognition - half of his quality is inflated by his reputation alone, but I digress. This is a lousy, wasteful movie, peddling style without actually having a fundamental understanding of it. Like I Know Who Killed Me before it, Slipstream tries to imitate Lynch while completely ignoring what makes his style (sort of) work. There is a sickening amount of jump cuts, freeze frames, crossing the line, all sorts of gimmicky editing devices scattered throughout this film. The first twenty minutes are nearly unwatchable. Past this point, these little glitches still occur, not as severe but certainly just as annoying. I understand that this movie was an attempt at a stream of consciousness narrative, so why did Hopkins let an eight year old edit it? It is perfectly possible to tell a story such as Felix's without disorienting camera changes, sudden removal of color and stuttering images. Maybe, MAYBE things like this could have enhanced the movie if they were used sparingly, and even then there would have been the risk of gimmickry. But Hopkins goes way the fuck overboard. It makes Slipstream into something deeply amateurish, not the product of someone who has worked in film for over 40 years. Past all that, it doesn't even change the fact that there isn't anything going on in the movie. The time that these camera tricks detract from the movie really begins to add up, and by the time you're an hour in there's this unshakable feeling that you've only seen twenty minutes of movie. It is not without its charms, but I'll be damned if I'm going to sit through an hour and a half of visual masturbation just to watch S. Epatha Merkerson laugh at something inappropriate. Skip this one, unless you're one of those indignant pseudo-intellectuals who thinks that anything "different" is automatically good.
Drew Smith
Super Reviewer
Slipstream Quotes
There are no approved quotes yet for this movie.