GamerZ: One Game to Rule Them All
(2005)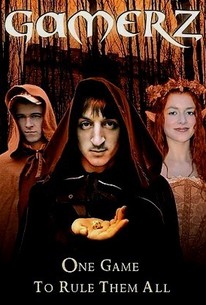 GamerZ: One Game to Rule Them All Photos
Movie Info
A die-hard gamer and social outcast who seeks to counter his bleak real-world existence by creating a richly-detailed fantasy universe finds his one shot at love shattered by an old neighborhood enemy in this fantasy-tinged tale of love geek love. One the rough streets where he grew up, Ralph (Ross Finbow) was always the target of the neighborhood toughs. Small time dope dealer Lennie (James Young) in particular seemed to make it his mission in life to humiliate and abuse Ralph whenever the opportunity for abuse presented itself. Now the time has come for Ralph to continue his education at the local university, and upon arrival he immediately makes a name for himself by overtaking the fantasy role-playing society by staging an impressively-planned coup. As his status among the college gamer set is established, Ralph embarks on a series of fantastic fantasy adventures with head-banging theology student Hank (Ross Sutherland), neurotic risk management student Davy (Johnny Astin), and beautiful goth girl Marlyn (Danielle Stewart) - who has become so seduced by the fantasy realm that she believes herself to be an elf. Never before has Ralph seen a woman more fit to serve as the queen of his expansive and imaginative kingdom. Ralph's quest to crown the woman of his dreams is suddenly shattered however when Lennie, after watching a Lord of the Rings triple bill on acid and having a near-religious experience, physically intimidates the dungeon master into permitting him entrance into his ongoing game. As Lennie and Marlyn begin to grow closer and Ralph withers with bitterness, the fantasy world clashes with the real world in an apocalyptic explosion of pure nerd angst. ~ Jason Buchanan, Rovi
Rating:
NR
Genre:
Directed By:
In Theaters:
On DVD:
Runtime:
Critic Reviews for GamerZ: One Game to Rule Them All
Audience Reviews for GamerZ: One Game to Rule Them All
I liked it. It wasn't great. It's about a bunch of nerd kids playing DnD. One falls in love with a girl and she doesn't return the love, so he kills her.... in the game....
John Trifiletti
½
Oh my lord... lol. The perfect movie to share with fellow Role playing gamers. Youll die laughing but ya got to watch with fellow gamers to enjoy it truly. Also a great intro into the ways of Role play games or online RPG's & MMO's. '=)
Dave A
½
GamerZ is such a big hit that it wasn't even on Flixster until after I went to review it only to find it missing from the database. The period of a couple days in which it took for Flixster to add it to the database was beneficial to the score that I am giving this movie, as I have had some time to detatch from the GamerZ-induced pain and animosity that I experienced immediately following viewing. GamerZ is poorly directed, has borish writing and the characters are not likable in the slightest. Hardcore basement role players may take interest simply because there aren't a lot of films that stand in tribute to their hobby. GamerZ perhaps has the spirit required in order to do a respectful tribute to geeks, but the film skills just aren't there on any front. Avoid it like the plague.
Dr3w Hix
GamerZ: One Game to Rule Them All Quotes
There are no approved quotes yet for this movie.