American Nightmare
(1983)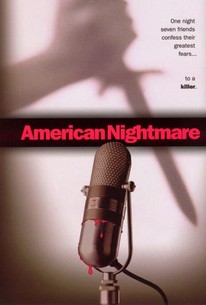 AUDIENCE SCORE
Critic Consensus: No consensus yet.
American Nightmare Videos
American Nightmare Photos
Movie Info
A man investigates the disappearance of his sister with the help of her roommate. He uncovers a trail of prostitution, incest, blackmail...and murder.
Rating:
R
Genre:
,
Directed By:
In Theaters:
On DVD:
Runtime:
Studio:
Audience Reviews for American Nightmare
½
A fun sleazy little slasher set in and around a strip club, well worth a look for fans of the lower end of the horror spectrum. Rental.
Bill Bryant
A pretty good bad movie. It's actually a rather unique sleazy slasher. Produced by Ray Sager, a regular actor/crew member of H.G. Lewis, and executive produced by Paul Lynch (director of Prom Night (1980)). This is a relic of a great time in North American film (it's Canadian) and should be appreciated for what it is, and enjoyed in the company of many, cause there's plenty to laugh, cheer, and jeer about, as well it will help you get through the slower parts.
Patrick Dolan
Super Reviewer
[b]Vantage Point[/b] was not as awful as everyone said. However, I've already forgotten most of it. The different perspectives were kind of neat, but, especially at the end, there were some Crash-esque moments. Wait for this to make the rounds on cable. Again, maybe I'm just not good with older and/or screwball comedies. [b]To[/b] [b]Be or Not To Be[/b] is set in WWII Poland about a group of actors who try to fool the Nazi's and save the underground resistance. It has some really funny parts, but, mostly, I was just mildly amused. I did really enjoy Carole Lombard ("Mr. and Mrs. Smith"), though. Probably everything that can be said about [b]The Dark Knight [/b]has been said. That aside, it was really, really good. All of the acting is top-notch. Christian Bale ("I'm Not There")'s Batman voice does get on my nerves a bit, though. Heath Ledger ("I'm Not There") is actually as good as everyone says. The film was a bit too long. That's my biggest criticism. All the Harvey Dent stuff could really have been a whole other film. But go see it. The action sequences are especially cool on the big screen. I read an article once where Eli Roth ("Hostel Part II") was listing his favorite horror films, and [b]Who Can Kill a Child? [/b]was one of them. The film starts out slowly, an expecting couple going to vacation on a small island. But when they reach the destination, they only see a few children in the mostly deserted village. And why they don't leave right away, I'll never know. The cinematography is very bright and dry. I felt hot and sweaty along with he characters. I did get a little frustrated with the pacing early on, however, the end was totally worth the wait. I can definitely see how this influenced Roth on Hostel. [b]American Nightmare [/b]is one of those films that has almost no redeeming qualities. Made in 2002, yet inexplicably set in the late 1990s, with all the main characters sitting around a coffee shop a la Friends, listening to a really bad radio show about people's worst fears, on Halloween. Then they start getting killed off. Bad dialogue. Really bad costumes. Poor acting. And all of this while continually referencing John Carpenter films, which just makes it all the more noticeable. Also, the killer has no clear or even thought-provoking motive. Best thing about film is this quote by the radio host: "How many people are doing the whole razor blade in the apple trick? Raise your hands. Good. Good. Good...Kid's going to the hospital. I love it. That's the spirit of Halloween - kids in the hospital. I hope there's enough room."
Diana Sturgill
Discussion Forum
Discuss American Nightmare on our Movie forum!