I'll Believe You
(2007)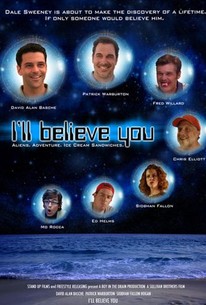 AUDIENCE SCORE
Critic Consensus: No consensus yet.
Movie Info
David Alan Basche (Carry Me Home, crazylove) stars in I'll Believe You, as Dale Sweeney, the radio host of an immensely unpopular late-night talk program on the AM dial. The only listeners whom Sweeney ever manages to drum up are nutty, half-zonked small-town denizens who want to discuss UFO sightings on the airwaves. Just prior to the final broadcast, with the program in arm's length of cancellation, Sweeney receives a strange phone call from an individual who speaks anxiously in an unintelligible language. The next morning, two federal agents turn up to question Sweeney, demonstrating heightened interest in one of the latest UFO sightings. Dale thus concludes that the caller was in fact an extraterrestrial, lost in his small town. He decides to report on the happenings during his broadcasts (which quadruples his audience size) and then bandies the locals into a collective search for the alien. Paul Francis Sullivan directs.
Rating:
PG (for some mild language)
Genre:
,
Directed By:
Written By:
In Theaters:
On DVD:
Runtime:
Studio:
Critic Reviews for I'll Believe You
All Critics (2) | Top Critics (2) | Fresh (1) | Rotten (1) | DVD (1)
UFO-spotting crazies and their fellow conspiracy theorists have a friend in Dale Sweeney in I'll Believe You, an off-kilter extraterrestrial comedy.

Cult movies have been made with a lot less, but this one, harmless enough, doesn't have enough originality or personality to get it off the ground.
Detroit Free Press
Top Critic
Audience Reviews for I'll Believe You
I'm pretty sure a deaf guy listening to deaf musicians chose the music for this movie. Also, the editing is horrible--the jumpy camera in the playground scene was the first laugh the movie got out of me. It couldn't seem to be able to contain all three characters in the same shot, the poor thing. However, Ed Helms was great. Blew Chris Elliot's oddly shirtless performance out of the water.
Alex Carawan
An Intriguing What If The thing is, they all think they're actually like this. All those people on those late-night call in shows all think they're actually in on the Secrets of the Universe. They think Men in Black are following them, just waiting to kill them for revealing what they know. This made me wary about the movie. The important question to me was how seriously they were going to take it. Netflix does list it as a comedy, thank Gods, but that doesn't necessarily mean that it's a comedy that isn't going to drive me batty with its implicit assumptions of how the universe works. And yeah, there's the moment where the scientist is encouraged to throw logic out the window, is told that everyone chooses what to believe, and she shouldn't be so worried about evidence. Such things always bother me. However, this is a place where the evidence itself can be interpreted a couple of different ways, and it's just a matter of how you look at it. Dale Sweeney (David Alan Basche) is the host of one of those desperate radio call in shows aimed toward encouraging all the weirdos to call in with their stories, though depressingly, no one ever does. He's about to lose his job, which means the horrifying prospect of working for his brother, Kyle (Thomas Gibson), owner of Hose World. His best friends are Officer Nick Senna (Patrick Gallo) and science teacher Paige Zinke (Cece Pleasants), and they have deep sympathy for his problems--which seem solved when a call very late at night involves someone drinking in a mysterious language which, of course, they immediately determine to be alien. Suddenly, Dale has incredible ratings. He's even being offered the morning drive time slot, which he doesn't take because his mystery caller, played by Patrick Warburton, says he needs the specific five minutes Dale can give him. There is great debate over the question of whether or not he's really an alien, with Paige leaning very heavily toward hoaxer. The film does, happily, give equal time to the skeptics, and they aren't being looked down upon. This isn't Scully denying the facts which are right in front of her. Half the crazies are demonstrably crazy no matter what else is going on, no matter whether they're right or wrong. The skeptics have dealt quite a lot with these people, and the film agrees that they should be frustrated. They're not deluded, and looking at the evidence objectively is not the same as blinding yourself to What's Really Out There. There is a lot of at least lip service given to actual science--a gator wrangler played by Chris Elliott talks about the part of time travel that no one considers--the Earth does, after all, move, and it will move out from under you. Where you are standing now may seem like the same place you were standing two weeks ago, but the Earth has moved--heck, the Sun has moved. That's leaving aside all the other physics, which the film doesn't really go into. I can't help thinking that the ratings of shows on at one in the morning aren't necessarily the most important aspect. Being cheap, for example. Being cheap was also a major concern for the filmmakers, it turns out--even though they completely rearranged the beginning of the movie, it was all done in post. They couldn't afford to do any reshooting. Which is alarming, given that they threw out the subplot it involved entirely. It's a good thing, mind. The subplot was dumb and distracted from the focus, such as it is, of the movie. Honestly, it's kind of impressive, all things considered, that they got the minor celebrities they did. It's not so surprising that they couldn't get them in to redo all their scenes when they figured out that the beginning wasn't working. Still, though, this was one cost-cutting method I didn't notice, so that's something. It's obvious the film is low budget, but it's still far better than a lot of the low budget stuff I've seen with puppets in the corner. I have never believed that there is no life elsewhere than Earth. The idea that there might be some deep in the liquid water oceans of Europa is fascinating to me, and I like to hope we'll have an answer in my lifetime. However, if the life of Europa turns out to be much more than microbial, I will be greatly surprised. Either way, it is vastly unlikely to be life as we know it. Certainly I do not believe that we are being visited by visitors from another planet, regularly or indeed at all. The movie had to either sell me on the possibility or at least get me to accept that these were otherwise rational people with a reason to themselves be sold on the possibility. I have a hard time laughing at people who are just crazy, and I have a hard time sympathizing with characters who willfully ignore evidence. Which, when you get right down to it, is why I don't listen to the kinds of shows this movie is about in the first place.
Edith Nelson
½
You know, going in to a movie knowing next to nothing about it other than the front DVD cover and who stars on it, is sometimes a great way of seeing stuff. The two films above this were seen in such a way, and without any ideas as to whether I would like or not like either one, I loved one, hated the other. This movie here was always viewed in such a way. And in this case, I love it also. I expected crap based on the silly cover and the B-comedians who star, despite the presecne of Evil Johnny (aka Patrick Warburton) on it. This had some of the funniest non-seuiturs and throw-away one liners I've heard in a long time. The plot was really fun, and the ending was great!
Bobby LePire
I'll Believe You Quotes
There are no approved quotes yet for this movie.