The List
(2007)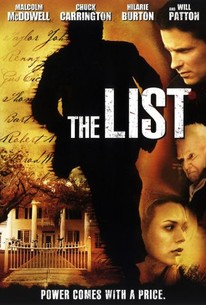 AUDIENCE SCORE
Critic Consensus: No consensus yet.
Movie Info
A Charlotte lawyer unearths a closely guarded family secret when his father dies and leaves him interest in an obscure entity known as The Covenant List of South Carolina, Ltd. in director Gary Wheeler's adaptation of the novel by author Robert Whitlow. Convinced that the fall of the Confederacy is at hand after the Battle of Gettysburg, a group of South Carolina plantation owners gather at the Rice Planter's Inn in Georgetown, South Carolina and hatch a plan to smuggle their fortunes into Europe. Their cover for the operation: a secret society dubbed The Covenant List of South Carolina, Ltd. But a weathered prophet opposes the group's nefarious plan, and issues a dire warning to his friends and neighbors that one day the descendents of the group will one day face judgment at the mighty hand of God. Decades later, the interests of the families have been passed down through the generations. The profit margin has exploded, and with each passing year the secret grows more sinister. When Charlotte lawyer Renny Jacobson learns that his father has recently passed away, he returns to Charleston to pay his final respects and attend the reading of the family will. Much to Renny's surprise, his father bequeathed a large portion of his estate to charity. Shortly after discovering that his sole inheritance is an interest in the mysterious Covenant List of South Carolina, Ltd., Renny is contacted by The List and approached by a beautiful woman named Jo Johnston. In the following days Renny will become swept up by a whirlwind of deception and greed that will lead him from the picturesque coasts of South Carolina to the closely guarded Swiss bank vaults which house a vast fortune in cursed blood money. ~ Jason Buchanan, Rovi
Critic Reviews for The List
All Critics (3) | Fresh (1) | Rotten (2)

Too easy, too cozy and too self-righteous. In the end, the film's own commitment to its message feels phony.

Mountain Xpress (Asheville, NC)
The List is an accomplished piece of filmmaking with a serious goal.

Audience Reviews for The List
½
Had high hopes for it, but wasn't as good as I had hoped.
Lovable Misanthrope
Super Reviewer
½
"God's children and his enemies make the same mistake. They both underestimate the power of prayer. Let's keep praying." Let me rip that apart real quick. First off, the greedy men weren't really enemies of god, they were just greedy men. How wanting money and power aromatically make you enemies of god, who knows. Second, "let's keep praying". Dude was praying for money. He was praying for an inheritance from his dad who he hated. So yeah, he just wanted money that wasn't his. Again, greedy. In the end after much much boring dialog where the man guy jumps into a redneck country accent only when he talks to the girl (who is probably his sister) who he falls in love with he decides not to use his magic powers to kill his sister and instead becomes good (but only because he is in jail and wants to get out). So.. yea.. I would NOT say 1) that dude was good guy. 2) This movie was a good movie.
John Trifiletti
½
If you want a bit of a thriller with a clean, Christian presentation, this film will do it for you. It was a decent story line and the acting was good for a low budget film. It helps of course that there are a few big name actors on board. The ending though was unsatisfying, it felt like the story wasn't really resolved.
Lisa Witt
The List Quotes
There are no approved quotes yet for this movie.
Discussion Forum
Discuss The List on our Movie forum!