Ski Party
(1965)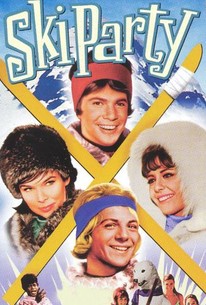 AUDIENCE SCORE
Critic Consensus: No consensus yet.
Movie Info
Remember the beach movies of the sixties? They're back! Well, not quite, but since Avalon, Hickman, and even Funicello appear in this one, it sure feels right. This time, though, read snow instead of sand and you got it. Ski lodge, to be precise, and though the plot is somewhat inane, with the boys cross-dressing to discover the secret of a friend's success with the girls, it's still a somewhat fun outing.
Critic Reviews for Ski Party
All Critics (2) | Fresh (1) | Rotten (1) | DVD (1)
A flat-footed farce whose gestures in the direction of imaginative absurdity are too bland and mean-spirited to land as comedy.

There are moments in the middle of all of this lamebrainery that we get the true Beach Party spirit, and things perk up.

Audience Reviews for Ski Party
Taking into consideration the name of the movie is Ski Party your expectations should be low to start with but this is still a pretty dumb time waster. The major redeeming feature would be the appearances of James Brown and even more so Lesley Gore. It is funny how when ever someone sings the movie switches to stereophonic sound. Also the scene of night skiing with color flares over which the opening credits are projected is very striking but otherwise this is inane.
½
A light comedy view of everything mid-1960's, Ski Party is a sure delight to those that crave girl chasing movies instead of car chases. Duane Hickman (of TV's Dobbie Gillis), stars with Frankie Avalon (60's teen singing idol) as college breaks for snow ski lessons. So reminecient of the sixties humor style and filming technique, young viewers will find this a break from the usual special effects and cold, antiseptic plots of today. These films never tried to be Oscar nominees for anything but a fast buck at the turnstyle. Still, today they are great time capsules. Watch for James Brown, soul artist extrodinaire, performing one of his biggest hits for the rich college kids on a ski bum safari. And sadly, RT gets it wrong AGAIN. This is a comedy, not a drama. God, does anyone at RT even read the cover jacket? CAST Frankie Avalon (Sixties male teen idol, big hit singer) Yvonne Craig Patti Chandler Lesley Gore (Sixties female big hit singer) Dwayne Hickman (from "Dobbie Gillis", sixties hit TV sitcom) Mary Hughes Aron Kincaid Robert Q. Lewis Bobbi Shaw Deborah Walley Crew Executive Producer: Samuel Z. Arkoff Musician: James Brown (hit soul singer of the sixties) Producer: Gene Corman Screenplay: Robert Kaufman Director: Alan Rafkin Executive Producer: James R. Nicholson
monsieur rick
½
FUN, FUN, FUN!! This is so funny and silly, I Love it! My Sis and I used to laugh and laugh at this one........"NORA!!" Hilarious! But we were kids in "The Beach Movie" era so it was great to us! This also has "Muscle Beach Party" on the same disc which is also pretty funny. DVD.
Robin P.
Ski Party Quotes
There are no approved quotes yet for this movie.
Discussion Forum
Discuss Ski Party on our Movie forum!