Canvas
(2007)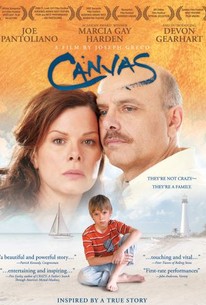 Movie Info
John Marino is a Florida construction worker struggling to make ends meet, while bringing up his son, Chris, and dealing with the increasing irrationality of Mary, his schizophrenic wife. For Chris, his mother's erratic behavior begins to have negative consequences at school. And, after Mary's hospitalization, a lonely John begins to build a sailboat that recalls a happier time in his life. Underlying the relationship between father and son is the belief that Mary will be better and the fear that she never will.
Rating:
PG-13 (for mature thematic elements)
Genre:
Directed By:
Written By:
In Theaters:
On DVD:
Runtime:
Studio:
News & Interviews for Canvas
Critic Reviews for Canvas
Audience Reviews for Canvas
This movie is a little overly mellow and slow-moving, but it's also very human and touching. The best acting, surprisingly, comes from Devon Gearhart, but the entire cast performs incredibly well and really involves you in the lives of this struggling family. It serves to put things into perspective and make you think about how lucky you really are and how no matter how hard you think things are, there's always someone who's got it worse. I expected this to be bleak and depressing, and at times it is, but ultimately it gives hope and encouragement, which is not something a lot of recent movies can do.
Amanda Hendsbee
½
As a person living successfully with a mental illness I would like to recommend the movie Canvas. This movie highlights "a family" who is struggling in many ways with schizophrenia. As with many families living with a mental illness financial woes seem to be a theme throughout the movie forcing family members to get creative with paying their bills as a family member becomes hospitalized due to their symptoms of schizophrenia becoming unmanageable. Canvas shows the differentiation of personalities dealing with the menagerie of social viewpoints towards mental illness. Despite the pressures of living with a family member who is diagnosed with schizophrenia Canvas demonstrates that families dealing with schizophrenia can maintain love and respect for one another as exemplified by the way family members respond to each other with compassion through individual struggles. Canvas demonstrates how the individual and their family who both live with schizophrenia can find hope in recovery through real life trials. The family depicted in the movie Canvas would not accept defeat but chose to wrap themselves into the moment and let the hurt and joy flow like the wind flows into a canvas sail with a marvelous result.
Tim Larson
½
Well I shall just tell you right off the bat, this movie really disappointed me. >.> A lot of people in my psychology class had recommended it to me, so I decided to watch it. Released in 2007, this movie was about a ten-year-old from Florida, Chris, and his family. Chris' mother was mentally ill with disorganized schizophrenia, and the movie was about how Chris and his dad dealt with the illness. After an incident where Chris' mom accidentally cuts his arm in a violent schizophrenic rage, she is taken away to a mental institute, where she remains for the rest of the movie. The majority of the movie played out some of the basic troubles a father and son would have after such an event, such as cooking meals and communicating/expressing feelings and emotions. Weak points: The movie developed sooo slow. Zzz... Also, although the movie was mainly about the emotional aspect of dealing with schizophrenia, it could have been made a bit more exciting. Disorganized schizophrenics can be dangerous when they last out, but the schizophrenic in Canvas was not portrayed completely accurate in this instance. I just felt like overall the movie lacked a main point and I had trouble paying attention. Strong points: The ending was realistic, as Chris' mother had to stay living in the institute, for her own safety. [I always hate endings that are inaccurate and unrealistic. >_o] Also, the relationships between father/son and son/mother were improving, as the family learned to adjust. The ending had a super sweet scene, but I won't spoil that. Also, the schizophrenic mother, played by Marcia Gray Harden, did a fantastic job playing her role. She was charming, yet crazy, and somehow manages to make everyone watching this movie fall in love with her. Overal rating: 1 1/2 stars out of 5. Yikes.
Alisha Schuiteman
Canvas Quotes
| | |
| --- | --- |
| Chris Marino: | Why can't you act normal? |
| Mary Marino: | You're a big boy now, you're a young man now. There's something wrong with me. But I think it's treatable. |
| | |
| --- | --- |
| Chris Marino: | It's still happening, isn't it? |