Canvas
(2007)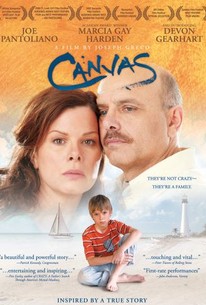 Movie Info
John Marino is a Florida construction worker struggling to make ends meet, while bringing up his son, Chris, and dealing with the increasing irrationality of Mary, his schizophrenic wife. For Chris, his mother's erratic behavior begins to have negative consequences at school. And, after Mary's hospitalization, a lonely John begins to build a sailboat that recalls a happier time in his life. Underlying the relationship between father and son is the belief that Mary will be better and the fear that she never will.
News & Interviews for Canvas
Critic Reviews for Canvas
Audience Reviews for Canvas
An intimate tale of mental illness and its effects on a family, Canvas has some holes, but the restrained performances of Pantalione and Gay-Harden kept me very interested. Harden was wonderful; one moment bubbling over with joy and then the next filled with uncertainty, showing her to be very vulnerable and yet possessing an immense inner strength. The scene where she begs off an offer to go boating because she's suffered a bad episode the night before was powerful; down to the defeat in her voice, even as she was standing up to her problem. Pantalione suffers in silence for the most part, and is most telling when he finally breaks and yells at his son that all he wants is to get back the woman he married. Heartbreaking stuff. The ultimate reconcilliation between father and son is a bit formula, but how could it fail to be? Some of the supporting roles were well acted - the smarmy boss who had just enough alleged humanity to not appear a cardboard cut out, and the young girl who befriends the boy, from all the coy looks and then rushed peck on the cheek - all really felt natural and real.
paul sandberg
Super Reviewer
Canvas Quotes
| | |
| --- | --- |
| Chris Marino: | Why can't you act normal? |
| Mary Marino: | You're a big boy now, you're a young man now. There's something wrong with me. But I think it's treatable. |
| | |
| --- | --- |
| Chris Marino: | It's still happening, isn't it? |