Aaja Nachle
(2007)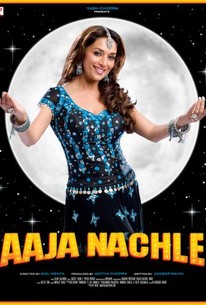 AUDIENCE SCORE
Critic Consensus: No consensus yet.
Movie Info
After nearly a decade, an unexpected phone call shakes Dia out of her dance rehearsal in New York. Makarand, her teacher, her guru, is dying and she must return to Shamli town. The town where she grew up, the town where she learned to live and to dance. Also the town she left on an impulse, severing ties with her parents and her people. It is a poignant and troubled return; not only has her guru passed away but the institution that he so lovingly nurtured is in decay and under threat of demolition. Ajanta theatre, the once vibrant hub of the community, the place where Dia's fondest memories are embedded must now be brought down because the local political authorities feel it a waste of prime real estate. With the help of Doctor, the caretaker of Ajanta, Dia sets out on a mission to prevent the destruction and resurrect the spirit of Ajanta. In an atmosphere of mistrust, ridicule and active hostility, Dia picks up the gauntlet and agrees to achieve the near impossible task of putting together a theatrical production. She must also ensure that every member of the production is from Shamli town. She has only two months to prove her point or the bulldozers will be waiting.
Critic Reviews for Aaja Nachle
Audience Reviews for Aaja Nachle
Since it takes me much to watch a Movie which were made after "Millenium" I thought to give the Songs of the Movie atleast a Chance, second I heard it is something completely different and which was Madhuri`s last Movie. And atlast I am a Madhuri Fan. WOW there are no enough words to describe this beautiful piece of Candy. AND YES I agree it is something different, what I also really liked about the Movie the plot was not focused on Madhuri`S Character. All actors were involved. WOW One has to see it. Though lot of Tissues are required during the Laila Majnu Scene. Her last Movie, she left with Hungamaa The last bit from the song "Laila Majnu" is a message that shouldnt be ignored. I see this Movie in ten years still will be enjoyed by Fans. it is definate that I LOVE this Movie
This is a pretty good movie if you like constant musical song, and dance numbers. Some of these Bollywood musicals really over do it, and this was one of them. I have to admit that I had to fast forward through most of the musical numbers. There isn't much depth here, and the plot is simple and a bit unrealistic....but this is definitely a well made, big budget film.
Cynthia S.
Super Reviewer
½
Absolutely intriguing! Here is a movie that centralizes around theatre- the influence of culture and traditions in the art of singing and dancing. Dia has always had a great passion for dancing even as a child. Being greatly influenced by her teacher, she believes that it is her one true happiness. Until she meets and falls in love, Dia is torn between following her heart or obeying her parents. Choosing love, she decides to leave her village, family, and friends. Ten years later, she returns with her young daughter after her teacher becomes terribly ill. She is too late, and her late teacher's message is for her to revive the theatre and bring back the passion for art in the community. Reluctantly, she tries and strikes a deal to promote a performance with villagers as actors. Great music. Ending perfomance is absolutely fantastic! Loved it!! Great cast- Madhuri Dixit, Divya Dutta, Kunal Kapoor, Konkona Sen Sharma, Akshaye Khanna, and Irfan Khan. Worth seeing!
Aaja Nachle Quotes
There are no approved quotes yet for this movie.