Shake Hands with the Devil
(2010)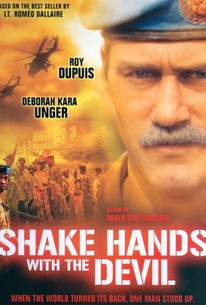 Shake Hands with the Devil Videos
Shake Hands with the Devil Photos
Movie Info
Director Roger Spottiswoode brings a very special film realization of the acclaimed best-seller by General Roméo Dallaire to the screen in "Shake Hands with the Devil," the story of a Canadian commander torn between his duty and his conscience when he finds himself eyewitness to hell on Earth. In 1993, the United Nations dispatches Lieutenant-General Roméo Dallaire (Roy Dupuis) to far off Rwanda to oversee a fragile cease-fire. A brilliant, workaholic officer and charismatic commander, Dallaire encounters the shabby reality of a typical UN peacekeeping operation: under-funded, overbureaucratic, and cobbled together from military units from dozens of countries, each with a slightly different agenda. Meanwhile, the peace agreement between the rebels, led by the minority Tutsi ethnic group, and the French-supported government dominated by the Hutu majority group, turns out to rest on shaky ground. When an unknown group shoots down the Rwandan President's plane, the storm breaks and a secret but long-planned genocidal campaign against the Tutsi minority begins with a night of terror in Kigali. A reporter (Deborah Unger) remains in-country and follows General Dellaire as he is forced to deal with far-away superiors and the studied indifference of the world's great powers while trying to take decisive action to stop the genocide of over 800,000 innocent civilians. --© Regent Releasing
Rating:
R (for some disturbing violent images and brief strong language)
Genre:
Directed By:
Written By:
In Theaters:
On DVD:
Box Office:
$594.00
Runtime:
Studio:
News & Interviews for Shake Hands with the Devil
Critic Reviews for Shake Hands with the Devil
Audience Reviews for Shake Hands with the Devil
Another viewpoint of the horrific events of the Rwandan genocide. Slow moving, but really well done. Roy Dupuis is excellent as the Canadian General leading the mission, and not getting the resources that he needs to do the job. For anyone who has seen Hotel Rwanda, or read about the genocide and wants to know more, this fills in some of the gaps from the international side. I recommend watching this in connection with Sometimes in April, which tells the story from the government side with a Hutu army officer being the protagonist. All good films....all very disturbing, but real.
Cynthia S.
Super Reviewer
Not as powerful or emotionally engaging as 'Hotel Rwanda, but still worth watching to get a more detailed perspective of what went wrong in Rwanda. The movie follows Canadian General Romà (C)o Dallaire, as he is sent to Rwanda to oversee the ceasefire there with a UN peacekeeping force. Lightly armed, undermanned, and answerable to incompetent bureaucrats 1000's of miles away, the UN forces are woefully inadequate to stop the slaughter around them.
Jon Adcock
The name itself is so attractive!!! I've a weak spot for "The Devil's Backbone", "The Devil Wears Prada", "The Devil's Advocate", etc. movies that have the word 'devil' in their title. Even though I may end up being disappointed by the movie, they're a 'must watch if available' for me and I just can't ignore them for long. Isn't it ironical that one of the world's most peaceful and innocent person likes movies that include such a word in it???!!! A good but not-so-great movie about the unfortunate Rwandan Genocide. The movie shows how a General is nothing but a puppet whose strings are moved as per his Major's wishes. It displays the helplessness of a man to help others only because he hasn't received the necessary 'orders'. Though their army is equipped, its hands are tied by the "Shoot only when you're shot at" type of orders that leave them almost defenseless. Hats off (okay, just noticed that I'm not wearing even a single hat right now, so postponing the 'hats off' act until unmentioned time) to those who can keep their cool even under such stressful conditions. I wish I could borrow a bit of it.
familiar stranger
Super Reviewer
Shake Hands with the Devil Quotes
There are no approved quotes yet for this movie.