Toots
(2008)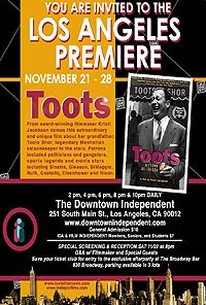 Movie Info
"Toots Shor is many things to many people," said Edward R. Murrow of the legendary Manhattan saloonkeeper in 1955. A friend to the famous, a crook to the feds, father, brother, gambler, bum, but most of all Toots Shor was the owner of America's greatest saloon. Directed by his granddaughter, "Toots" is a provocative, loving and unmistakably authentic portrait of the self-made, unapologetic and quintessentially American man who became the unlikely den-mother to the heroes of America's golden age. Politicians and gangsters, sports heroes and movie stars--Sinatra, Gleason, Dimaggio, Ruth, Costello, Eisenhower, Nixon, Warren--for 30 years, they all found their way to Toots' eponymous saloon on New York's West 51st Street for food and drink, served up with a heaping side of insults and put downs. From its post-WW II heyday to its devastating decline in the 1970s, this film reveals as much about the city Toots loved as it does about the man and his enduring legacy.
Rating:
NR
Genre:
,
Directed By:
In Theaters:
On DVD:
Runtime:
Studio:
Audience Reviews for Toots
A fascinating remembrance of mid-Century Manhattan saloon keep and man-about-town Toots Shor. Anyone who was anyone rubbed elbows and found camaraderie at the big round bar within Shor's joint on 51st Street: Humphrey Bogart, Jimmy Hoffa, Jackie Gleason, Ed Sullivan, John Wayne, gangster Frank Costello, Joe DiMaggio and Marilyn Monroe, Frank Sinatra, Richard Nixon, Earnest Hemmingway, Leroy Neiman, Walter Cronkite, Supreme Court Justice Earl Warren. Sports figures looking for a night out and sports writers looking for the next morning's story. Toots' place was 20th Century Manhattan Cafe Society at its peak. And it was Toots - the folksy & magnetic pal, the backslapping and amicable wise-cracker, the generous and consummate floor host - that drew them all in, not to his bar, but to his gathering place. On meeting the Pope: "Yea we talked. Jeez, he's a helluva guy." To Toots everyone was just a regular Joe, which in no small portion was why his patrons, so diverse, all adored him and called him best friend. And Toots lived for nothing more than his patrons, his tavern, his restaurant, sixteen hours a day. Toots claimed he didn't need to be a millionaire - so long as he could live like one. And he did, as his many connections gave him the keys to the City, whether it be the front row at Madison Square Garden or the best box at the track. This retrospective brings the time & place - as well as the man's persona - back to life, through generous historical footage/stills - of both the man and the City - as well as a wide variety of personal remembrances from famous patrons in which their endearment of the man couldn't be more obvious, even decades later. Worthy viewing of a time, a lifestyle and a larger-than-life character which was once New York. RECOMMENDATION: Youse guyz shooda bin 'dere.
TonyPolito Polito
Toots Quotes
There are no approved quotes yet for this movie.