Guta-yubalja-deul (A Bloody Aria)
(2006)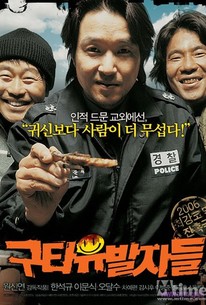 Guta-yubalja-deul (A Bloody Aria) Photos
Movie Info
An aspiring opera singer takes a trip into the countryside with her trusted mentor, only to find her fate taking an unexpectedly grim turn in director Won Shin-yun's darkly comic look at the power struggles that exist within all levels of society. In-jeong was on an innocent day trip with her mentor Yeong-sun when the man she once trusted suddenly reveals himself to be a lecherous fiend. Though In-jeong believes she has escaped harm when a seemingly benevolent local offers her a lift to the nearest bus stop, her relief turns to horror when the driver insists on stopping to meet up with his friends. Upon arriving at their destination, In-jeong realizes that the man's friends are in fact a depraved group of country thugs who have also captured Yeong-sun. Now forced to play along in a sadistic game of survival, the two captives wage a life or death struggle to escape their tormentors or die trying. ~ Jason Buchanan, Rovi
News & Interviews for Guta-yubalja-deul (A Bloody Aria)
Critic Reviews for Guta-yubalja-deul (A Bloody Aria)
Audience Reviews for Guta-yubalja-deul (A Bloody Aria)
A silly insult to Korean cinema.
Marcus Woolcott
Super Reviewer
½
Really good dark comedy/thriller. It's mostly carried by the characters' dialogue, so if you're looking for 'action' then skip to the last 20-30 minutes or so of the movie cause you're going to be very bored with it. What I liked about the movie was how the characters were written so they would each have their own personality and quirks and it makes for some very funny scenes at times. It was also nicely shot as I enjoyed the camerawork. The last 15-20 minutes of the film are pretty disturbing as you see how the abuse just reaches a whole new level, so it made for some very interesting moments. I'd recommend it.
Jesse Ortega
Super Reviewer
Intense film about bullies, psychos and all around not nice guys. A bit confusing, especially the ending, but very compelling. Also, I've begun to notice I'm giving everything I like 4 stars. I used to give 5 stars out like they were fliers, but now I'm addicted to 4 stars as a grow older. I think I'm a 4 star maniac.
Christopher Brown
Super Reviewer
Guta-yubalja-deul (A Bloody Aria) Quotes
There are no approved quotes yet for this movie.