The Rage
(2007)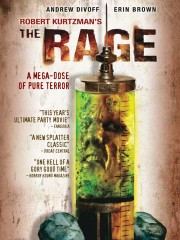 AUDIENCE SCORE
Critic Consensus: No consensus yet.
Tickets & Showtimes
Movie Info
A crazed scientist experiments with a rage virus on innocent victims in a laboratory in the woods. When his monstrous subjects die attempting to escape, vultures devour their remains and become mutations seeking to feed on humans.
more
Cast
News & Interviews for The Rage
Critic Reviews for The Rage
All Critics (1) | Fresh (0) | Rotten (1)
This is a splatter-filled tale that feels like a throwback to '80s direct-to-video horror, when a bunch of prosthetic makeup covered in blood was all you needed to make a low-budget movie.
Audience Reviews for The Rage
I wonder how much help Robert Kurtzman had while making Wishmaster. I wonder if he even made any decisions while on set at all, and how many Adderalls he had to take to stay awake. It seems this man has a sleeping disorder because it's obvious he fell asleep on set while filming The Rage. Wishmaster was a pretty damn good horror flick, what the hell happened to this guy? It's alright when a director slacks off and makes some bad horror films, but my God, The Rage is unforgivingly atrocious. It's main problem was that it even fails at being cheesy. I like cheese too. But I like the kind that makes me chuckle from silliness, even if it is unintentional. Reason why The Rage was so unfunny, not only because of the childishly dry humor, but because the actors looked ASHAMED! I swear to Christ, watch their eye contact, listen to their lines, and follow their body chemistry. They're fu*king embarrassed to be acting in this pile of horsesh*t. At least if they loosened up more, woke the director up from a slumber, and told him the script really isn't as funny as he thinks it is, the movie might have had a chance. This director doesn't know what "funny" is. No one had ever told him. He's probably a guy who laughs before a joke is even told, and people stare at him like he's nuts. He's in a dimension of lost thoughts and confuzzlement. A real psychopath!

The only decent thing this movie had going for it was the gore. But it was all CG in the worse way possible. Way too fake. Robert Kurtzman probably edited this movie too, only when he fell asleep his head kept hitting the keyboard. I really hope he'll be okay cause this man seems out of control. He's fu*king BONKERS.

Robert Kurtzman should write a sorry note to all the actors, and apologize for not knowing what anything means. Even more, he should come clean, drop the crack pipe, and admit he had nothing to do with Wishmaster. Maybe then I'll respect him more.

The Rage is beyond horrible. It's not even silly in a good way. And like I said before, I like cheese...just not when it smells like sh*t!


jd cryptic
Super Reviewer
Directed by Robert Kurtzman, who directed Wishmaster and formerly of the FX group KNB and raved by almost every major horror website you'd think this would be a sure-fire, fun horror hit, right? WRONG.
This is a huge misfire from the word go. Its a poorly written plot filled with badly acted, unlikeable characters, amateur CG work, forced jokes and sloppy editing. It has some decent gore but even that's uneven because one shot will look great and then the next two are horribly cheesy. Unless you're a Misty Mundae fan there is no reason to torture yourself with this low budget rip on 28 Days Later.
A.D. Villarreal
Super Reviewer
Discussion Forum
Discuss The Rage on our Movie forum!
News & Features