Android
(1982)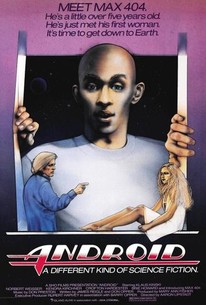 Movie Info
Several movie genres collide head-on in Android. Klaus Kinski plays a slightly cracked scientist, working in solitude on a remote space station. Kinski is hoping to develop a race of humanlike robots, the prototype of which is Max. 404 (Don Opper). He is interrupted by a coed gang of space-hopping escaped convicts. One of the cons, the lovely Brie Howard, falls in love with Max. 404, and he with her. The android's less attractive traits are exhibited when he jealously attempts to destroy female robot Kendra Kirchner. Though there's no budget to speak of, Android is one of the more likeable second-echelon sci-fiers of the 1980s.
Critic Reviews for Android
Audience Reviews for Android
I saw this on TV recently, it's okay, it's a sci-fi thriller about androids. I liked the ending most of all.
Old school sci fi flick. I think a lot of these were more to tell a story than to entertain. Wasn't bad. It's about an android who has feelings and disobeys his maker. This one did have a surprise ending which was kind of neat.
John Trifiletti
What the heck can you possibly say about a movie that's as awful as this? First of all, this film makes absolutely no sense. It's horrible. The plot is completely incomprehensible and the acting is terrible. Even if you do understand the plot (from reading it somewhere on-line), it's completely irrelevant to actually watching the film. The funny part is that it almost seems as though they're making it up as they go along. Half the dialogue in the film has absolutely nothing to do with the film and is COMPLETELY irrelevant! The fact that 83% of the critics liked this film just shows how full of crap they really are. My opinion is that anyone who likes this movie blindly likes anything that's science fiction. The people who liked "Android" are the people who're crying out, "Battlefield Earth wasn't so bad!" Yes. Yes it was. And so is "Android". But on the bright side, George Lucas actually liked this film, calling it "smart" and "relevant". Maybe that's where he got the inspiration to make the sweeping epic, "Howard the Duck"!?
Brian Dev
Discussion Forum
Discuss Android on our Movie forum!