My Brother's Wedding
(1984)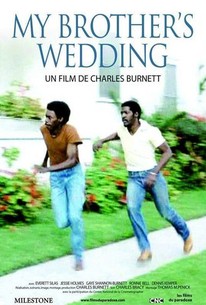 AUDIENCE SCORE
Critic Consensus: No consensus yet.
My Brother's Wedding Photos
Movie Info
"My Brother's Wedding" is a tragic comedy that takes place in South Central Los Angeles. The story focuses on a young man who hasn't made much of his life as of yet, and at a crucial point in his life, he is unable to make the proper decision, a sober decision, a moral decision. This is a consequence of his not having developed beyond the embryonic stage, socially. He has a distinct romantic notion about life in the ghetto and yet, in spite of his naive sensitivity, he is given the task of being his brother's keeper; he feels rather than sees, and as a consequence his capacity for judging things off in the distance is limited. This brings about circumstances that weave themselves into a set of complexities which Pierce Mundy, the main character, desperately tries to avoid.
Critic Reviews for My Brother's Wedding
Audience Reviews for My Brother's Wedding
In "My Brother's Wedding," Pierce(Everett Silas), when he is not working for his parents'(Jessie Holms and Dennis Kemper) dry cleaning business, takes the time to look in on his grandparents. In the meantime, he is getting reading for his brother Wendell's(Monte Easter) wedding. And then Pierce's friend Solider(Ronnie Bell) gets released from prison. "My Brother's Wedding" depicts a working class African American milieu that is still rarely seen in movies today. Ironically enough, in this world, there is upward mobility and downward mobility(Soldier has a certain outlaw charm and charisma about him) but moving sideways or not at all like Pierce seems expert at is definitely frowned upon. But as insightful as that is, the movie suffers from a fractured narrative that can be frustrating at times.(This review and rating refer to the 2007 director's cut.) Even the ending that desperately tries to bring everything together, can also feel more than a little forced.
My Brother's Wedding Quotes
There are no approved quotes yet for this movie.