Baby Blues
(2008)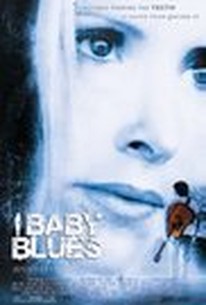 AUDIENCE SCORE
Critic Consensus: No consensus yet.
Movie Info
Josie Patterson arrives in the outskirts of a city community. A quiet, guarded woman, who is attempting to start her life over after a tragic incident. She gets a job at a run down diner, where she meets a young waitress who has come to terms with her dead end job. Hiding from her past Josie forms an unlikely friendship with her kind hearted co-worker and a romance with a young drifter musician named Max. Max shows Josie that not everyone sees a monster when they look at her. As Josie begins to realize that she can't hide from her past forever, she dreams of being reunited with her son. Josie must however, cope with the terrible prospect that by finding her son, she will reawaken her past.
Rating:
NR
Genre:
,
Directed By:
Written By:
In Theaters:
Critic Reviews for Baby Blues
All Critics (1) | Fresh (0) | Rotten (1)
Plays just like an over-long TV movie of the week, and has not nearly enough material to warrant feature-film status.
Audience Reviews for Baby Blues
½
Good acting, terrifying mother, incredibly disturbing content, good editing. Could have put together a better story, but it was creepy enough on its own.
Rich Raddatz
½
[b][font=Arial Black][u]ROGUE[/u] REVIEW[/font][/b] [b][font=Arial Black][/font][/b] [font=Arial Black][u]WHAT THEY SAID[/u]:[/font] [font=Arial Black]CRITICS: B-[/font] [font=Arial Black]USERS: C+[/font] [font=Arial Black][u]FRIENDS: B-[/u][/font] [font=Arial Black]MY GRADE: C-[/font] [font=Arial Black][/font] [font=Arial Black]GREG MCLEAN DIDN'T DELIVER ON THIS ONE. IT TOOK TOO DAMN LONG TO GET STARTED. YOU DIDN'T ACTUALLY SEE THE CROC UNTIL ABOUT 65% THROUGH. THAT'S A CRIME AGAINST THE GENRE. WOLF CREEK TOOK A WHILE TO GET STARTED ALSO BUT DAMN... I'M FALLING ASLEEP HERE! ANOTHER THING THAT KILLED THE EXPERIENCE FOR ME IS THAT MOST OF THE "ACTION" WAS OFF-SCREEN. ARE YOU KIDDING ME? IT'S A KILLER CROC MOVIE...SHOW ME THE GOODS OR DON'T EVEN BOTHER! REALLY DISAPPOINTING MOVIE...WATCH PRIMEVAL INSTEAD. AT LEAST THAT MOVIE HAS DELIVERS THE DEATH.[/font] [font=Arial Black] [b][u]PROM NIGHT[/u] (1980) REVIEW[/b] [u]WHAT THEY SAID[/u]: CRITICS: C- USERS: C [u]FRIENDS: D+[/u] MY GRADE: C+ I'VE HEARD NOTHING GOOD ABOUT PROM NIGHT. I CAN SEE WHY. THE MOVIE DOESN'T REALLY HAVE ANYTHING GOING FOR IT OTHER THAN JAMIE LEE CURTIS. EVEN THEN...IT DOESN'T EVEN SEEM THAT SHE WAS IN THE MOVIE THAT MUCH. WHEN I THINK ABOUT IT, PROM NIGHT WASN'T ABOUT MUCH. I DON'T REMEMBER LESLIE NEISON BEING IN THE MOVIE AT ALL. OTHER THAN SOME "EXCITING", YET TOO DAMN SHORT CHASE SEQUENCES NEAR THE END PROM NIGHT SHOULD HAVE STAYED IN THE BARGAIN BIN. YES, IT'S BETTER THAN THE REMAKE. [b][u]NATURAL BORN KILLERS[/u] REVIEW[/b] [u]WHAT THEY SAID[/u]: CRITICS: C USERS: C+ [u]FRIENDS: B-[/u] MY GRADE: A OLIVER STONE IS OFFICIALLY THE MOST BI-POLAR DIRECTOR. ON ONE HAND HE'S CREATED ONE OF THE MOST PAINFUL MOVIES I'VE EVER SEEN, ALEXANDER, AND IN THE OTHER ONE OF MY FAVORITE MOVIES WITH NATURAL BORN KILLERS. THIS MOVIE BLEW ME AWAY. NOT A SINGLE SECOND IS WASTED IN THE FANTASTICALLY VIOLENT AND DISTURBING MOVIE. I LOVED IT. NOT MUCH ELSE TO SAY...[/font]
Logan Miller
Disturbing and unpleasant but it's made pretty well on a low budget. The acting is convincing. But again, it's not a particularly pleasant subject matter.
James Higgins
Baby Blues Quotes
There are no approved quotes yet for this movie.