Revanche
(2009)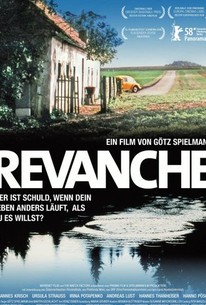 Movie Info
A happily married couple becomes unlikely friends with a man whose life has been marked by chaos and violence in this drama from Austria. Alex (Johannes Krisch) is a small-time criminal who, after a stretch in prison, finds himself working for Konecny (Hanno Pöschl), who runs a grimy house of prostitution; unknown to Konecny, Alex is also involved with Tamara (Irina Potapenko), one of his whores. Wanting to raise some quick cash, Alex robs a bank in a nearby small town and hides out on a farm owned by his grandfather (Hannes Thanheiser) while he waits for the heat to cool down. Alex tries to keep a low profile in the country, and he's troubled by boredom and despair, but his mood brightens when he strikes up a friendship with Susanne (Ursula Strauss), a cheerful and generous woman who lives nearby. But Alex's new friend happens to be married to Robert (Andreas Lust), a member of the local police force. Revanche was screened as an official entry at the 2008 Berlin Film Festival.
News & Interviews for Revanche
Critic Reviews for Revanche
Audience Reviews for Revanche
A gorgeous, sentimental, and somewhat existentialist drama about revenge, forgiveness, love, and devotion. Shot in mostly long, static shots without any musical score, Revanche is a film that will absorb and envelope you into its world, staying with you long after the credits have rolled.
Edward Boxler
Super Reviewer
½
In many ways, Revanche is almost two separate films. Exactly halfway through the film, it takes a turn that, while somewhat dependent on the opening, can exist on its own. The same goes for the first half. The credits could role at the one hour mark and the film would still feel complete. Still, they both influence each other. The first deals with the longing for a better life, while the second act is the converse; it preserves the memory of better times and the struggle to regain what has been lost. One desperate act transforms everything; one bullet - literally - causes the change. It's really sort of depressing and pessimistic if you think about it. Alex is perfectly miserable throughout the entire film, no matter what else is happening. Granted, he has had a hard life, but it makes you wonder if happiness truly is nothing more than a state of mind. Anyway, it's not one of the best films I've ever seen, but it still deserves some credit and recognition.
½
a brooding thriller that is set in a bit more of a real world than most films of this genre. spielmann has crafted this film perfectly, making the wise choice to leave out a musical score to heighten the sense of realism and using excellent camera work to set the mood of each scene instead. the absence of a score also makes the grandfathers accordion playing a bit more relevant to the actual sense of emotion being portrayed on screen. the varied landscapes and 3 act formula are used with precision, and the characters are written so well that they each have a chance to reveal their multiple dimensions. an emotional film, but at the same time an appropriately simple one with a surprise ending that squares with reality in a refreshing way. a powerful film.
Revanche Quotes
There are no approved quotes yet for this movie.