The Auteur
(2008)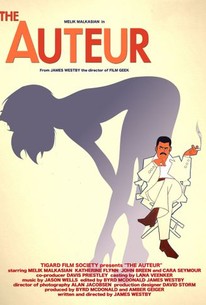 Movie Info
As an eight-year-old boy in a small Italian village, Arturo Domingo found copies of both Cahiers du Cinéma and Hustler under his parents' bed, and it was then that his future as the "Kubrick of porno" took root. Now mid-career, after a number of highly acclaimed films (like My Left Nut), he finds himself in a bit of a slump. His work has slipped since he parted ways with his longtime collaborator and star, Frank Normo, now the host of a wildly successful sex/travel reality show. Domingo also finds himself attending a retrospective of his work in Portland, Oregon and thinking obsessively about the lost love of his life so much that he can't concentrate on his real mission: to finally screen the controversial director's cut of his epic Vietnam-era flick, Full Metal Jackoff.

This hilarious spoof is the brainchild of former Portland, Oregon video store clerk James Westby (Film Geek) who directs, writes, edits, and even composes some songs for the film. The various porno clips, all send-ups of cinema classics, are simply ingenious. Westby's Portland location sets the film perfectly askew: At one point a very conspicuous, very Hollywood Domingo ends up in a rural commune called "Paradise," where he gets a lesson in organic bud and chakras from frolicking nudist hippies. A cameo by Ron Jeremy, nostalgic use of Super 8 footage, and a great indie rock soundtrack round out the film, which ends in a truly unforgettable climax. --© Tribecca Film Festival
Critic Reviews for The Auteur
Audience Reviews for The Auteur
Kinda weird movie about a classy porn director's life after fame. I did like Melik Malkasian's performance but overall this movie was boring. 2009 Movies: 108
Ross Loehner
½
Sometimes funny, almost always obscene, this film is for laughs ONLY. Portrays the life of some so-called genius porno director. [img]https://encrypted-tbn3.google.com/images?q=tbn:ANd9GcQS1A257DrEHrjC4ZMTl_kNJTVwWgsfvJz80C1hUy6D99bNZhso[/img] SEE the entire film at: http://www.crackle.com/c/The_Auteur [img]https://encrypted-tbn1.google.com/images?q=tbn:ANd9GcTaNx01bqa4Y-E-zhP5go7Og6aq-u78xdAjuh4k0F1SVGI0qdZsvw0oDPc[/img] "THE AUTEUR follows formerly renowned porn director Arturo Domingo (Five Easy Nieces, Requiem for a Wet Dream) through a bizarre weekend as he receives a lifetime achievement award at a film festival in Portland, OR. Encountering crazed fans, former collaborators, bitter enemies, and free-loving hippies, Arturo attempts to put the pieces of his broken career and personal life back together."---- Written by Arturo Domingo See this at your own risk. Its purely a parody of the porn film industry. But there is plenty of flesh and indecent proposals. [img]https://encrypted-tbn1.google.com/images?q=tbn:ANd9GcRMcPovw1yLlOT49j7ivmSRPhPIagnRdLh6YS7cGuJyz5_m1HG6UQ[/img] Reviews: 90% I really enjoyed this movie and laughed myself silly. The puns of the title of the porn movies were hilarious. 60% "One time, hunder my parent's bed, I found 'Ustler magazine." It's little gems like this line that prevent this movie from being totally unlikable. 60% Arturo Domingo (Melik Malkasian) was a renowned filmmaker, known for making pornographic films that combined artful filmmaking with graphic depictions... More [img]http://www.blogcdn.com/blog.moviefone.com/media/2008/04/auteur1-(2).jpg[/img] Director: James Westby Writer: James Westby Stars: Melik Malkasian, Denise Chanterelle DuBois and Loren Hoskins Cast overview, first billed only: Melik Malkasian ... Arturo Domingo Denise Chanterelle DuBois ... Margaret le Plage Loren Hoskins ... Manny Davis John Breen ... Frank E. Normo Andrew Harris ... Ram Dick Amanda Jackie Warren ... Porn Actress Leslie Taylor ... Emily Leonard-Ritz Viva Las Vegas ... Dyke Club 'The Narrator' / Easy Niece / Ho in 'Broadway Danny's Hos' Malice 666 ... Dyke Club 'I'm You - Bitch!' Woman Sahara ... Voluptuous Woman Cora Benesh ... Porn Chick Cara Seymour ... Doris Katherine Flynn ... Fiona Hanegan Victor Morris ... Joseph Jacob Pander ... Documentary Narrator [img]http://brightcove.vo.llnwd.net/e1/pd/1196751612001/1196751612001_1343057054001_vs-1343051660001.jpg?pubId=1196751612001[/img]
monsieur rick
"One time, hunder my parent's bed, I found 'Ustler magazine." It's little gems like this line that prevent this movie from being totally unlikable. Morally, however, this was a tough movie to watch guilt-free.
Alex Carawan
The Auteur Quotes
There are no approved quotes yet for this movie.
Discussion Forum
Discuss The Auteur on our Movie forum!