Das Haus der Schlafenden Schönen (House of the Sleeping Beauties)
(2008)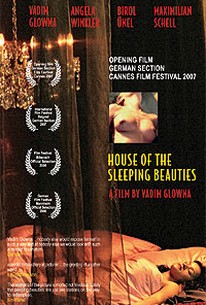 Das Haus der Schlafenden Schönen (House of the Sleeping Beauties) Photos
Movie Info
Director Vadim Glowna explores such complicated issues as loneliness, guilt, remembrance, mourning, sex, death, and dying in this adaptation of Yasunari Kawabata's novel concerning a most unusual bordello catering to a most unlikely clientele. Edmond is a lonely man in his late sixties. On the advice of his older friend Kogi, Edmond visits a bordello that allows elderly men the rare opportunity to lie down beside beautiful, youthful women. The girls are narcotized before each session, ensuring that they never awaken to actually meet the clients. Presiding over this mysterious establishment is the 60-year-old Madame, a woman who assumes the caring role of mother to both the girls and the men who come to be with them. Each time Edmond lies down next to one of the girls, memories of his previous life come flooding back. Edmond wants nothing more than to disappear silently into death while basking in the glorious perfection of youth. One night, by chance, Edmond observes Madame and her helpers disposing of a corpse. But while Edmond becomes morally conflicted about what he has seen, he cannot stop himself from returning to the bordello. When Edmond begins questioning Madame about the incident, the mystery only seems to deepen.
Critic Reviews for Das Haus der Schlafenden Schönen (House of the Sleeping Beauties)
Audience Reviews for Das Haus der Schlafenden Schönen (House of the Sleeping Beauties)
A very sensual film that explores loneliness and innocence, and does so in a very low-key, almost mystical way. The main character, Edmond (Vadim Glowna, who also directed), carries most of the action and the dialog, delivering soliloquies that evoke his pain at losing his wife and daughter some 15 years before, a loss he still has not been able to move beyond. Angela Winkler is the Madame of this strange establishment, and one is never sure of her actions or her motives. Is she what she seems, or is she hiding something darker? Kogi, (Maxmillian Schell) is Edmond's friend, who counsels him and who introduces him to this world and seems to have questionable motives. This is a quiet film, beautifully shot, and the interplay between the characters is subtle and leaves one with numerous possible interpretations. Not for everyone, but a very thought provoking film.
Mark Abell
Super Reviewer
Das Haus der Schlafenden Schönen (House of the Sleeping Beauties) Quotes
There are no approved quotes yet for this movie.