Vice
(2008)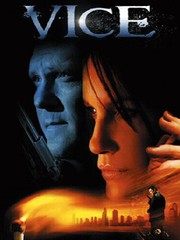 Vice Trailers & Photos
Movie Info
Detective Max Walker (Madsen) was once a highly respected cop until he lost his wife and his life unraveled. Haunted by her memory and harboring his rage, Walker has nothing left to lose. He is a loose cannon waiting for an excuse to explode.
A drug bust operation goes awry. A large haul of heroin is discovered by Walker and his team; including Salt (Hannah) and Sampson (Williamson). The bust attracts a great deal of heat after several people are killed and one gang member escapes from the scene.
Murder and mayhem ensue. The officers involved in the bust are being killed off one by one. No cop is safe. With no suspects in sight, a bewildered Walker joins forces with Salt to investigate the slaughter of his team.
What follows is a series of twists, intrigue and foul play. When it is discovered that some drugs from the bust went missing the cops start to look amongst themselves for the killer. Trust is compromised, comradeship dissolves and friends turn their guns on one another until the last man is standing and the truth is revealed. --© Official Site
more
Watch it now
Cast
News & Interviews for Vice
Critic Reviews for Vice
Audience Reviews for Vice
½
Why did I watch this??? Michael freaking Madsen thats why. Plays the same bad ass character in all his movies.
Carlos Rodriguez
If you ever come across this film at Blockbuster or Hollywood Video or something, please, do not rent it. Despite the fact that the film stars Michael Madsen and Daryl Hannah, both of whom were exceptionally outstanding in Tarantino's "Kill Bill", this film has a stupid, lifeless plot. It also has a scene of nudity. Male full frontal. Be warned.
Rotten Tomatoes
Discussion Forum
Discuss Vice on our Movie forum!
News & Features