Die 1000 Augen des Dr. Mabuse (The 1,000 Eyes of Dr. Mabuse)(Diabolical Dr. Mabuse)
(1960)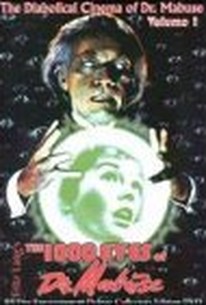 Movie Info
Back in Germany for the first time since 1933, director Fritz Lang returned to the screen character that brought him enormous success in his pre-Hollywood years. The Thousand Eyes of Dr. Mabuse is not so much a sequel as an extension of Lang's early Dr. Mabuse (1922) and Testament of Dr. Mabuse. Set in 1960, the film begins with a series of unsolved murders in a Berlin hotel. The modus operandi of the murderer is the same as that of long-dead megalomaniac Dr. Mabuse. Police detective Gert Frobe and amateur sleuths Peter Van Eyck and Dawn Addams suspect that the killer is a man who believes that he is the reincarnation of Mabuse. Could the culprit be secretive insurance salesman Werner Peters, or blind seer Wolfgang Preiss? The title refers to the hotel's sophisticated TV surveillance system--dozens of roving cameras and TV monitors, inspired (claimed Lang) by a sophisticated bugging method used by the Nazis during World War II. The renewed popularity of the Dr. Mabuse character spawned five movie sequels, none of which were directed by Lang, who had washed his hands of the project. ~ Hal Erickson, Rovi
Rating:
NR
Genre:
, ,
Directed By:
In Theaters:
On DVD:
Runtime:
Studio:
Ajay Film Company
Critic Reviews for Die 1000 Augen des Dr. Mabuse (The 1,000 Eyes of Dr. Mabuse)(Diabolical Dr. Mabuse)
Audience Reviews for Die 1000 Augen des Dr. Mabuse (The 1,000 Eyes of Dr. Mabuse)(Diabolical Dr. Mabuse)
Fritz Lang would make three films featuring the Dr. Mabuse character. The second one, The Testament of Dr. Mabuse (1933), filmed in Germany, is a brilliant and prophetic work in which the parallels between Dr. Mabuse and Adolf Hitler are quite obvious. Hitler liked Lang's films and according to Lang, Joseph Goebbels, who banned The Testament of Dr. Mabuse, nevertheless offered him a position as the head of German film studio UFA.  Lang, part Jewish, left Germany that very evening. In America Lang was successful as a filmmaker though he wasn't well liked by actors, particularly Henry Fonda, who resented his autocratic behavior. By 1960, Lang, then 70, was unable to find work in Hollywood and agreed to travel to Germany to remake The Indian Tomb, a film he had developed in the 20's but didn't get a chance to direct. When that was finished, producer Artur Brauner suggested a remake of Testament of Dr. Mabuse but Lang persuaded him to let him make a new installment of the series. There was to be a production with English actors as well but financial support was withdrawn when Lang refused to agree to working with a co-director. Thus we only have the German version which unfortunately was dubbed for US and UK release. I might have enjoyed this film a little more if it had been in German with English subtitles but it still suffers from an incoherent plot and dialogue that sounds as though it was written by high school students. The last fifteen minutes manages to be somewhat exciting though full of improbabilities but the final scene is as sappy as they come. Yet the film was successful and led to a series of new Mabuse films though none were directed by Lang who was by then nearly blind. He died in Los Angeles in 1976.
Dan Willard
A great german return for the third and final act of Langs Dr. Mabuse trilogy. Nearly thrity years after the seconds chapter and nearly fourthy after the first part, its as exciting as the others. The story are building through the whole film and every piece falls into order at the intense and thrilling end.
Anders Ask
½
"The 1000 Eyes of Dr. Mabuse," director Fritz Lang's final film, is a belated sequel to "Dr. Mabuse, the Gambler" (1922) and "The Testament of Dr. Mabuse" (1933). What a poetic way to bring a long, storied career to a full-circle close. Criminal mastermind Dr. Mabuse was believed to be long dead, but apparently has resurfaced. His sights are on the vast fortune of young industrialist Henry Travers. A mysterious shooter, presumably one of Mabuse's goons, is killing people using not bullets but steel needles (skillfully fired into the brain). Inspector Kras (Gert Frobe, best known for playing "Goldfinger") is on the case -- suspicions center on the elegant Luxor hotel -- but Mabuse remains an elusive, wily villain. An old, blind psychic named Cornelius provides clues, but his wisdom may not be reliable. Meanwhile, a cautious love blooms between Travers and distraught Marion Menil. Too bad she already has a husband. The film's glaring problem is simply that it's so creaky and low-budget. It was released in 1960 but, at a glance, one easily might guess the film was made in the '30s or '40s.
Eric Broome
Super Reviewer
Die 1000 Augen des Dr. Mabuse (The 1,000 Eyes of Dr. Mabuse)(Diabolical Dr. Mabuse) Quotes
There are no approved quotes yet for this movie.