Dune
(2014)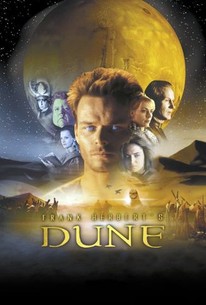 AUDIENCE SCORE
Critic Consensus: No consensus yet.
Movie Info
In the 11th millennium, Shaddam IV, ruler of the Galactic Empire, rids himself of his competitor Duke Leto Atreides by giving him control of the desert planet Dune also called Arrakis; fully aware that its present owner, Baron Vladimir Harkonnen, will not give it up without a fight. The reason is that Arrakis is the source of the valuable spice, a substance produced by enormous and dangerous sandworms, which bestows special mental qualities on anyone who consumes it. A short while later Harkonnen does indeed succeed in ambushing and massacring Leto and his men. Leto's mistress Lady Jessica, who is a member of the clairvoyant order of Bene Gesserit, manages to escape into the desert with her son Paul, and after a long and dangerous march they finally encounter the Fremen, the long suppressed desert tribe of Arrakis. Impressed by Paul's clairvoyant abilities, tribal prince Stilgar takes in the fugitives. Very soon the Fremen are convinced that Paul is their long-prophesied redeemer...
Critic Reviews for Dune
There are no critic reviews yet for Dune. Keep checking Rotten Tomatoes for updates!
Audience Reviews for Dune
½
Fantastic rendition of the books by Herbert. This series followed and stayed true to the book orders of magnitude better than the 1980s version of it. The movie is quite lengthy but it hits all of the major plot points. The special effects are ok but nothing to write home about, except for the guild navigator folding space part. This was exceptionally well done. If you are a sci-fi fan, watch this movie. If you're a Dune fan, you need to watch this movie right now! :)
Chris Mueller
this movie should NOT be remade. it will fail at the box office compared to the amount it will cost to produce, market and distribute.
Jason Raab
½
Although there does appear to be a new version of Dune coming out in 2012, the movie trailer associated with this listing on flixster (at least at the time of this writing) is for "Frank Herbert's Dune," produced as a miniseries on the Sci-Fi Channel in 2000. I just watched this version once again, and as there appears to be no listing for it on flixter (again, at least at the time of this writing), I will go ahead and review it here: The theatrical stage effects, such as dropping the lighting and turning on a spot light, do create a startling contrast to the other CGI effects in the film, shocking you out of the story and reminding you that you are watching a performance. The acting by Ian McNeice as the Baron Herkonnen is a bit over the top at times, and his use of rhyme is a bit of an annoyance. Despite all of this, however, I absolutely loved this film. To be sure, perhaps because it's length allows it to develop the story and the characters much more fully, it completely blows David Lynch's version of Dune out of the water - and I am a David Lynch fan. This is one of those novels that I keep meaning to read, but have not yet managed to get around to. But if this film is only half as good as the novel, I definitely need to read it. All in all, this film is definitely worth buying (preferably in the "director's cut" version). (A)
Michael Camarata
Dune Quotes
There are no approved quotes yet for this movie.
Discussion Forum
Discuss Dune on our Movie forum!