Voskhozhdeniye (The Ascent)
(1978)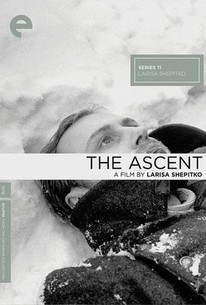 AUDIENCE SCORE
Critic Consensus: No consensus yet.
Movie Info
Two Soviet partisans depart their starving band on a short march to a nearby farm to get supplies. The Germans have reached the farm first, so the pair must go on a journey deep into occupied territory, a voyage that will also take them deep into their souls.
Critic Reviews for Voskhozhdeniye (The Ascent)
All Critics (3) | Fresh (3) | Rotten (0)
A revelation. It calls to us from an unmitigated stasis that sees the act of war as the consequence of dangerous movements colliding inwards on each other.
The scenario's religious overtones notwithstanding, its brutal realism is overwhelming.
Shepitko's chilling and emotionally gripping WWII psychological drama.
Audience Reviews for Voskhozhdeniye (The Ascent)
certainly a beautifully made propaganda. the christian imagery seems weirdly blatant for a soviet film. this is on mosfilm's youtube channel
Stella Dallas
Super Reviewer
In "The Ascent," a group of partisans during the Great Patriotic War are being picked off one by one by the occupying and much better armed Nazi soldiers. To make matters worse, they are also quickly running out of food. Rybak(Vladimir Gostyukhin) knows the local area and volunteers to go to a local farmhouse, along with Sotnikov(Boris Plotnikov), a trained soldier, who has no experience with the extreme cold and quickly falls ill. They find the farmhouse burned to the ground and venture further to a village where they appropriate a sheep from the local headman(Serge Yakovlev). But before they can make it back to camp, they are ambushed. Directed by Larisa Shepitko, "The Ascent" is a harrowing war movie whose chain of events deliberately builds to a powerful finale. My only complaint is that the opening credits are displayed over the action. The movie is set in a frozen snow-covered landscape that almost appears to be a whiteout at times(at one point, the men stumble across a frozen lake) where survival can be difficult, even when it is not during a time of war. The movie does a very good job of using this setting to explore the high price of capitulation during war time. This is something Sotnikov would not even consider as he tries shooting himself rather than being taken prisoner before Rybak rescues him. In retrospect, we know how this war will end but all the characters see is a bleak future before them.
Voskhozhdeniye (The Ascent) Quotes
There are no approved quotes yet for this movie.