Hush
(2009)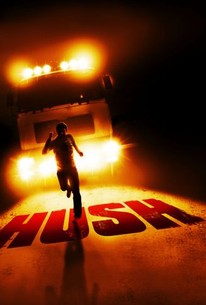 Movie Info
Struggling writer Zakes Abbot is driving along a rain-drenched motorway with his girlfriend Beth asleep in the passenger seat when he accidentally cuts off a large white lorry. When the lorry driver swerves violently ahead of him the truck's back panel swings up to momentarily reveal a horrific sight--a terrified young woman chained in a cage. As Tonderai explains, "He wonders, 'What the hell was that?' and then basically ignores it - and enters a whole world of hurt. Through his actions, by choosing to not get involved, it leads to a hell of a night..." Hell being the operative word because when the pair stop at a service station Beth goes missing and Zakes realises that she may have become the next victim.
Audience Reviews for Hush
½
[img]http://images.rottentomatoes.com/images/user/icons/icon14.gif[/img] It would be impossible not to notice that Hush is a fairly generic horror movie, with a lot of moments that make you think of other exploitation movies. Despite all that it's a very impressive film that quite effortlessly gives you a wince inducing rush of adrenalin with the beautiful sense of realism that too many horror movies dont have. It's nothing other than a very well put together debut horror feature for Mark Tonderai who i'm sure will go on to make some more great thrillers like these if he isn't crushed underneath a big budget and a well-known Hollywood A-list star (House At The End Of The Street, let's see how that turns out). It's benefits include a unique visual style, naturalistic and believable performances from it's talented cast and consistent, nail-biting suspense. A lot of debut horror features such as Christopher Smith's Creep and James Watkin's Eden Lake have none of these traits and they never really bloomed until much later on in the career's of these film maker's, and it was a genuinely pleasant surprise to see such a fantastically well-written and spine-tingling debut for once. I found it incredibly gripping, more than adequately put together, and thought it offered up a great number of scares and thrills. Looking at it as a straight-forward cat and mouse horror movie, I enjoyed it for what it was. And although originality isn't the film's strongest point it offers up plenty of tension, an oddly creepy atmosphere and incredible horror direction. It's a very stylish, deeply satisfying and wonderfully inventive little horror film, and such an accomplishment it's hard to comprehend it as a debut.
Directors Cat
Super Reviewer
½
desent British thriller worth a look.
Brian De Guelle
Super Reviewer
½
Tense and suspenseful British thriller set along the busy M1 road where a woman has been kidnapped by a brutal trucker leaving the boyfriend in pursuit to free her. Yeah it's a little similar to 'Breakdown' from '97 but it manages to hold its own agaimst other films of its type and it makes for a good ride!
Hush Quotes
There are no approved quotes yet for this movie.