Grey Gardens
(2009)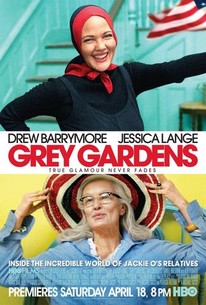 TOMATOMETER
AUDIENCE SCORE
Critic Consensus: Grey Gardens offers few new revelations about the eccentric Edie's, but is elevated thanks to powerhouse performances from Drew Barrymore and Jessica Lange.
Movie Info
Drew Barrymore and Jessica Lange headline this fact-based drama centered on the two eccentric relatives of Jackie Kennedy-Onassis who served as the subject of David and Albert Maysles' similarly-titled 1975 documentary. Directed, produced, and co-written (along with Patricia Rozema) by Michael Sucsy, Grey Gardens tells the story of Big Edie (Lange) and Little Edie (Barrymore), the aunt and cousin of Kennedy-Onassis respectively. The reclusive socialites made headlines across the country when the health department threatened to raid their sprawling, flea-and-raccoon-infested twenty-eight room East Hampton, NY mansion in the early-1970s, prompting Kennedy-Onassis herself to intervene in an attempt to save the family name. Jane Tripplehorn stars as former first lady Kennedy-Onassis in a film also featuring Daniel Baldwin, Ken Howard, Malcolm Gets, and Ayre Gross.
News & Interviews for Grey Gardens
Critic Reviews for Grey Gardens
Audience Reviews for Grey Gardens
½
Two women live in a secluded Hamptons estate called Grey Gardens, which becomes the center for posh parties, decay, and ultimately, an odd mixture of co-dependency and love. The performances by the two leads, Drew Barrymore and Jessica Lange, are extraordinary. Each adopts some weird Boston/New York/is-that-Southern-intellectual hybrid accent that is so unique that it has to be an exact imitation of the real people, and each embodies her respective character's pain and triumph, communicating lifetimes of disappointment and will in a single pained smile. I've never taken Barrymore seriously as an actress before this film; shame on me. The film highlights these performances, but its pacing is off, slowing down in the middle and wandering away from the narrative threads the strong first act built. How exactly does the house and their lives fall into such disrepair, and how can they remain so blissfully ignorant? I'm not sure the film has an answer to these questions, but to leave the space between these points A and B is to deny the audience and the characters the narrative continuity they deserve. Overall, though the film has some structural problems, the leads' performances are strong enough to make up for any flaws.
Jim Hunter
Super Reviewer
½
Heartbreaking true story of Big Edie (mother) and Little Edie (daughter), the relations of Jackie Kennedy Onassis (I was surprised!), from the 1975 documentary. Oddly enough some of the best scenes in the film are in the early years. Drew Barrymore was absolutely magnificent as "Little" Edie, and Jessica Lange was amazing as "Big" Edie. The passive-aggressive attitude displayed made for some super entertainment. The co-dependency made for some outstanding drama. They were an endearing couple. The direction and filming was great as well and sets the perfect mood and atmosphere for the time periods and brings so much layers to the film and is period piece done right. Overall the film is bittersweet to me, the ending was somewhat satisfying and in the end they were both at peace with their lives but it's just a very gloomy and sad movie that makes you think what could of been with their lives but it's an amazing story.
Dean McKenna
Super Reviewer
it's amazing that drew barrymore sometimes does make some effects portraying challenging roles, real characters who are much less attractive then herself, for example "riding in the car with boys"...young edith beale isn't exactly a glamourous character, and i didn't know her existence before drew barrymore and jessica lange got invovled into this movie production..i must say jeanne tripplehorn really does look like jackie!!! i saw some clips from youtube about edith beale, and the original trailer of grey gardens in 70s after this movie..i must say beale is really kinda eccentric with that turban on all the time, and the movie sorta explains this as a result from a heart-broken affair with a married man. no matter how they try to lighten the story of the beale mother-and-daughter, i do feel tragic about their story: a parent and a child are bound to each other in an eternal maidenhood (harshly speaking, spinister-hood?) in a decaying claustrophobic environment just becasue the old woman considers this place a representation of herself and her spirit? and the whole remaining royality thing. to me, it's even more saddening when you strive to beautify a life of grim-ness. i gotta summon up my feelings toward this with an experience i had in real life..tcm has lots of those 5~10 mins commercial episodes which introduce you to some vintage bars where those old-time big names had been, and those rare stores which still have some rare old-movies in complete collections..the nostalgic aficinado thing, you know. there was once when i saw a brief interview on tcm that tells you about a video-shop near around hollywood that still provides really rare vintage movie-rental...then later, i did urge someone to take me there for a visit. in the moment i stepped into the store, it just didn't look as good as it looked on tv. then i found people who hang around there are kinda over 60..it was all right with me (so what?) until my companion started to make fun of me and laugh at me in a jarring and irritating tone of voice. she said "only old people would be there, you have had a taste of grandmother..gee, gal, you are OLD.."..she just went on and on, then i felt so embarrassed that i had to leave soon. (besides, i cannot rent anything for not being a registered hollywood resident)...anyway, my point is: those things i considered cultured, refined and historical, are just laughable old-lady's yellowed underwears to others who prefer to think they're following the wave, being young as they should be...that's exactly how i feel about grey garden and any of those old-day glamour...tearful smile to a destroyed withered life without prospect....self-conflicting? i suppose.
Veronique Kwak
Super Reviewer
Grey Gardens Quotes
There are no approved quotes yet for this movie.