Shuttle
(2009)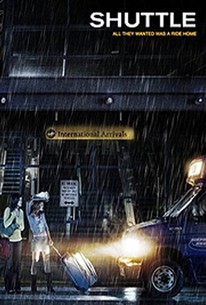 TOMATOMETER
AUDIENCE SCORE
Critic Consensus: While this debut by Edward Anderson is economical and occasionally effective, Shuttle offers little catharsis after its tense ride.
Movie Info
A group of returning vacationers boards a late-night shuttle bound for home, but soon finds their journey taking a dark turn in this tale of terror from writer/director Edward Anderson. ~ Jason Buchanan, Rovi
People Who Like this movie also like
Critic Reviews for Shuttle
Audience Reviews for Shuttle
½
Kind of sucked. It's filled with cliches; there's nothing original about it. The entire plot is predictable so any twists it throws at you aren't surprising in the least. The actors are of course all good looking young kids- who you really can't feel sorry for. The entire plot is flawed. The movie is about 4 kids who get on a shuttle from the airport really late at night and are abducted by the shuttle driver and his accomplice. Those kids had SO many chances to escape, it was ridiculous. There was no excuse for their stupidity. There was ONE old guy that had a gun (the accomplice didn't come until later), and there were FOUR healthy young kids (TWO of which were strong men), and they just let the old guy push them around. They outnumbered him; they could've easily ditched the shuttle or taken the kidnapper out while he was driving the shuttle. SO...I can't really express sympathy for any of those victims. Even the characters themselves said "gee I should've gotten away when I had the chance" like duh ya think? Stupid ass characters. They should've known when the driver was so creepily desperate to have them as passengers on his shuttle...shuttle drivers don't do that ever. The kids all saw it coming, and they just hung around for the free ride to sketchy Mcsketchersville in the middle of ghettotown, USA. Like seriously? The whole setting the film was shot at was sketchy as fuck. It was completely deserted and pitch black with sketchy run down buildings on every block....and no matter how far the kidnapper drove or how many turns he made- they were still in ghettotown. It was so bizarre. Like a place that sketchy would not be that big. It was so weird. Anyway, the film had no suspense whatsoever since it was so obvious they were all going to die and *SHOCKER* the girls were being sold into the sex trade overseas. Definitely not the best movie, and the acting was nowhere near good.
A good horror film that has all of the suspenseful aspects that a film like this needs.
Cassie Hill
Super Reviewer
In this Horror we have reminders of bits from many other films, so whilst it almost seems an original (albeit a no-brainer of a Horror) movie, hints of Freddy Kruger's bus, Scream's Sydney played by Neive Campbell and the resemblance to the main character, I won't spoil the ending by comparing it to a film, but you get my drift. Not brilliant by far, but easy watching teen Horror cheese, with plenty of predictability
Lady D'arbanville
Super Reviewer