Loft
(2008)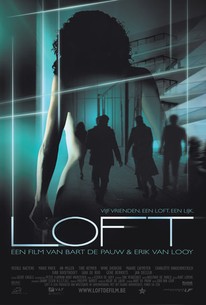 AUDIENCE SCORE
Critic Consensus: No consensus yet.
Movie Info
Five men share a secret that has deadly consequences in this thriller from Belgium. When Filip (Matthias Schoenaerts), a playboy with a wild streak, finally settles down and gets married, his good friend Vincent (Filip Peeters) presents him and three of his friends with a special gift. Vincent is an architect, and after supervising the renovation of a apartment block, he installed a luxurious penthouse flat for the use of himself and his married pals, where they can enjoy liaisons with other women without their spouses becoming any the wiser. Filip, Vincent and three of their buddies -- hard-drinking ladies' man Marnix (Koen de Graeve), Filip's psychoanalyst brother Chris (Koen De Bauw) and taciturn Luc (Bruno Vanden Broecke) -- are the only ones with keys to the flat, and the only ones who are supposed to know it exists. But one day one of the five checks into the apartment and discovers a woman's bloody corpse shackled to the bed; one of their group is a murderer, but who is the killer and how can the others keep this a secret from the police and their families? Loft was directed by Erik Van Looy and written by Bart de Pauw, both of whom got their start in the film business as actors.
Audience Reviews for Loft
½
In its insistence on being smart and surprising - which this efficient thriller is for the most part -, it also comes off as a bit contrived and over the top like a Melrose Place-like soap-opera, directed and edited as a telefilm and with a dialogue that sounds at times pretty expository.
Carlos Magalhães
Super Reviewer
I am not familiar with Belgium cinema and these actors were all unknown for me but even so the movie LOFT, proved to be a very engaging and complicated tale about five married men, best friends, sharing a loft apartment as a playground for their affairs, and a meeting point for their mistresses. Eventually one of them became an object of a crime scene, so the story opened about these five friends, united in their common benefits, which turned later into an exciting who did it puzzle game. They started to fight each other, all with their own excuse and where they don;t trust each other anymore. Through mystery building flash-backs, the movie lead to several clever twists and turns. I won't be giving away anything more about this movie, cause this would ruin the experience, but in some ways you would be amazed by the ending.
Daisy Maduro
Super Reviewer
Loft Quotes
There are no approved quotes yet for this movie.