Rage
(2009)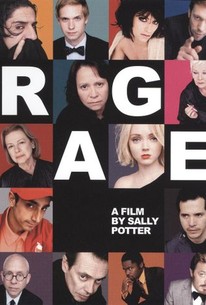 Rage Videos
Rage Photos
Movie Info
Director Sally Potter examines the effects of globalism in the information age in this drama following a young blogger named Michelangelo as he interviews a series of eccentric subjects over the course of seven days. In a prominent New York fashion house, flamboyant designer Merlin prepares to debut his latest collection as curious blogger Michelangelo shoots interviews on his cell phone. His subjects; a disparate mix of New York denizens including a celebrity supermodel named Minx, a financial backer named Tiny Diamonds, a seamstress named Anita de Los Angeles, a pizza delivery boy named Vijay, a war photographer named Frank, and a critic named Mona Carvell. The fashion industry is in crisis thanks to globalization and a faltering economy. As the ever-increasing gap between appearance and reality widens, Michelangelo becomes the person everyone turns to in order to vent their frustrations. Later, when a model dies on the runway and police launch a murder investigation, the interviews take the form of confessionals in the eyes of a child armed with the two most powerful tools of his generation: the Internet and a cell phone.
Rating:
NR
Genre:
Directed By:
Written By:
In Theaters:
On DVD:
Runtime:
Studio:
Cast
Critic Reviews for Rage
Audience Reviews for Rage
Though a fairly fresh concept, Rage's necessary evils overpower their resulting goods. The 98 minute viewing peaks to awe, just to tumble to enraging lows, so many times that the resulting feelings soon evolve to a personal will to survive to the end titles. On the bright side of this tedious experiment, Jude Law, Steve Buscemi, John Leguizamo, Eddie Izzard, and Judi Dench revolutionize their roles.
Ben Cunningham
I just watched "Rage," and I like it. I'd like to watch it again, to make a chart of the characters and write down quotes they say, because there is much to consider. It is an interesting character study, never taking place anywhere except in front of a blue screen (except the final shot). That is an experiment, a shift from conventional film-making, where locations are essential. But this film does not take place on screen--it takes place in your mind. Dozens of people die, but you never see it. You hear it, and your imagination constructs the scene while there is only a character to look at on screen. Also, the characters audiences encounter are very intriguing, how they change over the course of the film. Namely Minx, played by Jude Law. Initially, Minx speaks with an accent and says that "the only things important in life are money and fame." I wrote her off as materialistic, lacking depth, and dumb. But later in the film, Minx drops the accent and shows audiences that Minx is a character, a puppet that is used to obtain the things she says are important. At her core, she is kind, sensitive, and insecure. Sally Potter created a very interesting character. Also, the designer Merlin and his antithesis Mona Carvell create an noteworthy debate with their opposite views on fashion. On the one hand, Merlin says that fashion is beauty, is art, is something to be treasured. Conversely, Carvell says that "fashion is not an art form. If it's anything at all, it's pornography, to which millions are addicted. Hopelessly addicted." She then talks about how women shop, how they look at clothes with a look of lust and desire. It's a convincing argument. Very quickly, you get to make judgments about the people in this story, about their character and who they are. Lettuce is so confused and lacking structure or family, and you can see the vulnerability in her huge eyes as she cries in front of the camera. Vijah becomes corrupted by his dream of fame. Anita has a revelation about God and that every person is loved by Him. Miss Roth realizes that her company is acting in an immoral way, so she protests against her own company and their policies. The characters are what drive this film, and they become real because the filmmakers never stray from their device. I really like this film for what it tried to do. It strayed from normalcy to create a unique film through its style, and it is full of rich characters who push their vitality through the screen and into the minds of viewers.
Ben Weaver
½
Written and directed by Sally Potter, "Rage" is something of a failed experiment. Taking place over the seven days of Fashion Week, a vlogger, Michelangelo, interviews the participants from the top to the bottom of the industry, and all in between. There is little of interest until he stumbles across a story, amongst the protests by garment workers for higher wages that are barely covered by the press, when shots are fired. Even through this, most of the characters are only interested in themselves, so their storylines never come together to form a coherent whole. Still, there is an excellent cast including Judi Dench, Steve Buscemi, Dianne Wiest, John Leguizamo, Eddie Izzard amd David Oyelowo who are all fun to watch. Of particular notice is Jude Law, almost unrecognizable as a model, and not a male one either. And the movie almost has something worthwhile to say about fame on the internet that Michelangelo achieves of sorts, even though he is not using his real name by focusing on the fame of others.
Discussion Forum
Discuss Rage on our Movie forum!
News & Features