April Showers
(2009)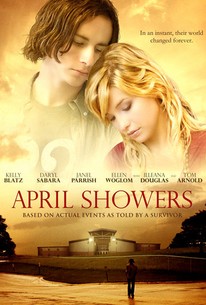 AUDIENCE SCORE
Critic Consensus: No consensus yet.
Movie Info
High school shooting survivor Sean Ryan (Kelly Blatz) and his fellow classmates strain to make sense of the tragedy that will haunt them for the rest of their lives in this intensely personal drama from writer/director, Andrew Robinson, a survivor of the Columbine High School massacre. Daryl Sabara, Kelly Blatz, Illeana Douglas, and Tom Arnold star.
Rating:
R (for some disturbing violent content)
Genre:
Directed By:
Written By:
In Theaters:
On DVD:
Runtime:
Studio:
Critic Reviews for April Showers
All Critics (1) | Fresh (1) | Rotten (0)
A moving, well-made piece of work with daring and genuine performances from a talented young cast.
Audience Reviews for April Showers
"April Showers" is a chilling recreation of the Columbine High School shooting. Andrew Robinson, a senior at Columbine during the shootings, writes and directs this film to create a once-in-a-lifetime perspective of these events from the inside. I appreciate that the names and some of the details were changed out of respect for those who were killed during this tragedy. DISCLAIMER: This film is really difficult to watch, particularly if you are a teacher, student, or parent with a child in school (so basically everybody). They are tasteful in not directly showing people being killed, but the panic is enough to send chills down your spine. The film reenacts the shooting several times from the perspectives of students in different areas of the school. Following the tragedy, each student copes with their experience in a different way. The main emotion the the students struggle with is guilt, questioning why their life was spared, feeling responsible for the death of another, or never telling someone that they loved them. Every scene is important, from the shootings to the tearful funeral. The most chilling part of the film occurs at the very end as the names of every innocent person killed in a school shooting scrolls by on the screen, from the University of Texas in 1966 to Dillard High School in 2008. This film is dedicated in loving memory to all of those who we lost, and to those who survived. I think that tears are inevitable at the end of "April Showers. This film isn't designed for entertainment; it is a tribute to those who lost their lives and a necessary empathetic device to help us avoid another tragedy like this happening again.
Jonny Priano
½
Disgusting, disturbing film. Whoever thought a Columbine survivor should make a movie about a school shooting seriously didn't think it through too well. Never mind the actual school shooting, the aftermath is perhaps the most warped part. Produced by Pure Motive and EMO Films, they are up front and center about the film from their names alone. Overly long, it is 104 minutes, not 94 unlike what Flixster says. I'll even overlook the confusing casting of Tom Arnold (who I'm sure is proud of his role, it is among his best work - but no one can separate him from him which sullies his performance), but I cannot forgive the three parallel stories of three men. The main character is a total nutjob, the false hero is waaaaaaay too overdone, and the scapegoat is worse than both of them. Notice how the police and media are depicted as overly aggressive, scheming, evil, etc. Don't let Robinson make a movie like this. Let him make a different movie - that's fine. But too much doesn't ring true in this film. It just feels like a diary entry - which coincidentally is how the movie ends. Horrifically in poor taste from start to finish. It's not gross, it's not overly exploitive, it's just wrong.
Robert Iwataki
½
This movie had some good moments, but it was very sporadic in its attempt to mesh. Plus, there were a few scenes where I just could not make out what they were saying due to poor sound quality. ELEPHANT, tho a lower budget movie, was much better. I do respect the main characters true life struggle in dealing with the Columbine tragedy, however. I only wish they would have found a better way to portray it.
Cynthia S.
Super Reviewer
April Showers Quotes
There are no approved quotes yet for this movie.