Tôyô's Camera (Toyo's Camera)
(2008)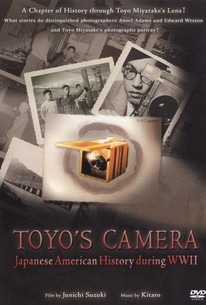 AUDIENCE SCORE
Critic Consensus: No consensus yet.
Tôyô's Camera (Toyo's Camera) Photos
Movie Info
In 1869, the Japanese emigration to California began. For 140 years, they continued to build a firm foundation by overcoming hardships despite language barriers, limited employment opportunities and racial discrimination.However, when Japan attacked Pearl Harbor, which initiated World War II, the U.S. government took action against Japanese Americans. In 1942, the U.S. government took further action to segregate Japanese and Japanese Americans into camps surveyed by watchtowers.The U.S. government's unconstitutional actions of taking away their freedom and rights left deep scares within the hearts of the Japanese and Japanese Americans who lived in the U.S. at that time.Of the 120,000 internees at ten locations, 64% were American citizens. Moreover, because there were no actions taken against German American and Italian American citizens, whose ancestry were of enemy countries, the Japanese Americans felt an unfathomable sense of despair.Photographer Toyo Miyatake and his family were among the 120,000 internees. The camps were like prisons with no freedom. Bringing in cameras was forbidden. However, Toyo smuggled in his camera lens and asked a carpenter to make the camera body. Together, they built a camera with which Miyatake started to photograph the living conditions inside Manzanar internment camp.His son Archie Miyatake still remembers his father's words: "It is my duty to record the facts, as a cameraman, so that this kind of thing should never happen again."Miyatake was a world-renowned photographer even before his days in Manzanar. His works were often displayed at exhibits, and was gaining recognition in the U.S. around the time he photographed The Dance Company of Michio Ito, who was sweeping the U.S. performing arts scene at the time.Because of his genius talent as a photographer, the camp chief was relatively generous to his photography inside the camp. Miyatake became the official photographer of internment camp and was able to open his own photographic studio. In the beginning, however, Miyatake had to hire an American assistant because only "Americans" were allowed to press the shutter.The photographs that Miyatake continued to take for three years document the vivid stories of life inside the Manzanar internment camp. --© Official Site
Critic Reviews for Tôyô's Camera (Toyo's Camera)
All Critics (2) | Top Critics (2) | Fresh (2) | Rotten (0)
Director Junichi Suzuki's film offers compelling insights into a long-shrouded chapter of history, yet Toyo's Camera lacks the subtlety of its subject's work.

Bumpy transitions and organization, along with New Age composer Kitaro's temperamental soundtrack, prevent a sense of polish, but this Japanese-produced doc, which includes Reagan's 1988 reparations, testifies with dignity and restraint.
Audience Reviews for Tôyô's Camera (Toyo's Camera)
There are no featured reviews for Tôyô's Camera (Toyo's Camera) at this time.
Tôyô's Camera (Toyo's Camera) Quotes
There are no approved quotes yet for this movie.
Discussion Forum
Discuss Tôyô's Camera (Toyo's Camera) on our Movie forum!