Venkovský Ucitel (The Country Teacher)
(2008)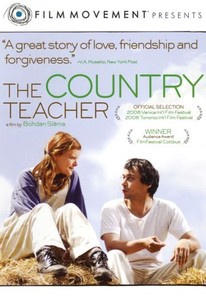 Venkovský Ucitel (The Country Teacher) Photos
Movie Info
A sexually confused natural science teacher turns down a prestigious job in Prague in favor of working in a remote Czech village, in the process forming a close bond with a lonely widow and her insolent 17-year-old son. Having recently come off of a failed homosexual relationship, the troubled teacher makes the difficult decision to leave his family behind and relocate to a quaint village in the countryside where he can create a new identity from the ground up. Shortly after getting settled in and landing a job teaching at the local school, he meets pretty widow Marie (Zuzana Bydzovská), whose husband has disappeared to work on the family farm. In the process of forming a friendship with Marie, who clearly wants to take their relationship a step further, the teacher also forms a connection with her rebellious adolescent son (Ladislav Sedivý). Marie simply doesn't understand that the teacher left Prague in order to find himself in the country, and due to the rampant homophobia in the rural area it's difficult for him to express his true motivations to her. An already complicated situation intensifies tenfold when, out of nowhere, the teacher's former lover arrives in town determined to find out why their relationship was broken off so suddenly and unceremoniously.
Rating:
NR
Genre:
,
Directed By:
Written By:
In Theaters:
On DVD:
Runtime:
Studio:
News & Interviews for Venkovský Ucitel (The Country Teacher)
Critic Reviews for Venkovský Ucitel (The Country Teacher)
Audience Reviews for Venkovský Ucitel (The Country Teacher)
This was a film that will make some very uncomfortable and that portrays some very real people dealing with some very real issues. Petr (Pavel Liska) is a tormented soul who relocates from a posh private school in Prague to a small-town public school. The reasons for his leaving only become clear as the film progresses. He befriends a widow, Marie (Zuzana Bydzovská), and her troubled son, Lada (Ladislav Sedivà 1/2). But the friendship is hampered by Petr's personal issues, and by the history that his new friends have experienced. All of this is carefully revealed through a natural story-telling style that kept the viewer engaged. There were a few issues that rankled, including some playing to stereotype, and a couple of very annoying characters. Although the flaws keep this viewer from giving it more than three stars, it was not enough to put one off completely.
Mark Abell
Super Reviewer
In "The Country Teacher," the headmaster(Cyril Drozda) wonders why Petr(Pavel Liska) has come to the country from Prague to teach. Could it have something to do with his formerly teaching in the same school as his mother(Zuzana Kronerova)? Regardless, Petr fits in well in his new home, befriending Marie(Zuzana Bydzovska), a single mother and farmer, but chooses not to reciprocate her feelings. And he's gay, by the way. "The Country Teacher" is a gentle movie whose impact is lessened by its rambling episodic structure. On the other hand, it does work well with the bucolic setting of a small town where the rapid transit consists of tractors and a rowboat.(Actually, there is one bus...) And the movie gracefully treats its characters without condescension, using the slow pace of the characters' lives to represent the slow pace of the acceptance of gay rights in the Czech Republic. Along these same lines, the movie takes a very cautious approach(we find out Petr's gay when he tells his mom) and in a dark moment, it reinforces a particularly nasty stereotype.
A languid film into which dramatic vignettes drop, almost like a surprising find of a piece of actual strawberry in strawberry ice cream. Anyway, a conflicted gay man exiles himself to the country, where he takes a job as a teacher and is quite good at it. He attracts the attention of the local widow, but her teen rebel son is more his bag, with disastrous consequences. A lovely film about desire and papering over one's difficulties with the pleasure of 'honest' work.
Arin D
Venkovský Ucitel (The Country Teacher) Quotes
There are no approved quotes yet for this movie.