Beautiful
(2009)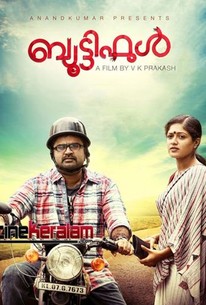 AUDIENCE SCORE
Critic Consensus: No consensus yet.
Movie Info
A 14 year old shutterbug is persuaded by his beautiful 17 year old neighbor to investigate a series of bizarre abductions when the gorgeous girl voices suspicions that a reclusive widow from their wealthy suburb is to blame for the unsolved crimes. Sunshine Hills was the kind of place where nothing bad ever happened - until the local teenage girls began to vanish without a trace. Now paranoia has taken hold, and everyone's a suspect. Meanwhile, adolescent photographer Daniel begins focusing his lens on Suzy, a stunning beauty whose amateur sleuthing has led her to suspect that the withdrawn widow in number 46 has a hand in the disappearances. Suzy knows that she can use her beauty to manipulate Daniel into doing her bidding, but as the mystery grows so too does the danger of crossing the path of someone who will stop at nothing to continue their malevolent crime spree unabated.
Critic Reviews for Beautiful
All Critics (2) | Fresh (2) | Rotten (0) | DVD (1)
Cryptic Australian thriller, the first film by Dean O'Flaherty, about some girls who disappear from an idyllic suburb ...
Clearer storytelling would bring into focus the various aspects of the film that are scattered throughout with nothing to glue them together.
Audience Reviews for Beautiful
Quite an interesting, small Australian thriller. I remember seeing the poster in film-ink, and then never heard a thing about it again until it showed up on free to air TV recently. Good cast and interesting premise. Asher Keddie is particularly effective in her small role. A lot remains unanswered and the ending is odd, but interesting movie. Glad I finally had a chance to see it.
Nicki Marie
Super Reviewer
½
I should have listened to the underwhelming response here, but the intriguing trailer on Encore gave me hope that even if it wasn't any good, it'd be interesting to watch. And it is, for awhile, until the glacial pace drags you down with it. This is essentially Australian Beauty with the voyeuristic photographer kid and his attractive neighbor parts thrust into the ugly-beneath-the-polished-facade world of Blue Velvet as they probe the mysteries behind the doors of the house at #46. The introverted photographer kid looks like Elijah Wood at his most bewildered and is very one-note, which grows frustrating as he is supposed to carry the movie. The pacing of many scenes is awful and drag on for no reason so I grew tired of this potentially interesting mystery, and then got completely shortchanged with a pathetic ending that is as hard to swallow as it is underwritten. Save your time and don't bother.
Doctor Strangeblog
Super Reviewer
This one suprised me. A young beautiful girl gets an even younger boy to do her bidding, which has malice. She does this just for her own entertainment, and just because she can. The boy and the girl are both unknown actors whom do a good job facilitating the story. Some of the other actors are not as compelling, but all in all its worth a watch. While the story has been told before, it does manage to pull off an ending that you dont entirely see coming....even though a little confusing.
Cynthia S.
Super Reviewer
Beautiful Quotes
There are no approved quotes yet for this movie.