Chatham (The Golden Boys)
(2009)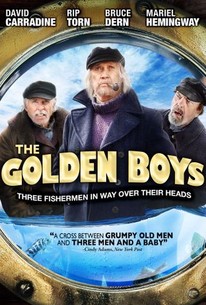 Chatham (The Golden Boys) Photos
Movie Info
Adapted from Joseph C. Lincoln's best-selling novel Can'n Eri, this gentle tale of three retired sea captains living together and looking to get their house in order features an all-star cast including David Carradine, Rip Torn, Bruce Dern, and Mariel Hemingway. The story begins in turn of the century Cape Cod, where Captain Jerry Burgess (Torn), Captain Perez (Dern), and Captain Zeb (Carradine) decide that the only way to get their house in order is for one of them to get married. When no one jumps at the prospect of taking a bride, they decide to flip a coin and Captain Jerry is selected as the groom-to-be. After placing an ad for a mail-order bride in a big-city newspaper, the trio gets a response from Martha Snow (Hemingway), who hails from nearby Nantucket. The plan seems to be going along just fine until Captain Jerry gets cold feet, prompting Captain Perez to work overtime to keep Martha from leaving. But as Captain Jerry attempts to work up the confidence to propose, a strange thing happens: Captain Zeb falls in love with Martha and proposes. Now, if Captain Jerry can just find it within himself to forgive and old friend, this seafaring trio may find that everything will work out in the end.
News & Interviews for Chatham (The Golden Boys)
Critic Reviews for Chatham (The Golden Boys)
Audience Reviews for Chatham (The Golden Boys)
From one end of the spectrum to the other. Yesterday I am watching more a less a movie about a child and today its old men. The previews are far better then the movie itself but its still a cute movie, about 3 old shipmates living together and they decided one needs to marry in order for there home to be kept up. Lots of twist and turns. Easy to see that 3 old friends in the movie business enjoyed making this film. An enjoyable film but still only 3 Stars.
Bruce Bruce
Super Reviewer
Starts off promising actually then goes straight to shit
½
i didn't even know this one was out there but, following a group of nothing but silver-haired types into the local multiplex (as opposed to a group of squealin skateboardin cellphonin pimplepoppers headin for "hannah montana"), i found this relic warped from the days of abc's movie-of-the-week as the old new wave (carradine, torn, and dern, their wild, capricious, potsmokin, f-ck-the-man, "we do it our way" days of the '70's long behind them) dust off their best eastcoaster accents and entertain entertainin ms. hemingway's competent though lonely spinster. who'll get the girl? is the most action this quaint "senior entertainment" vehicle offers.
Kevin M. Williams
Super Reviewer
Chatham (The Golden Boys) Quotes
There are no approved quotes yet for this movie.