Ape (A*P*E ) (Attack of the Giant Horny Gorilla) (Hideous Mutant)
(1976)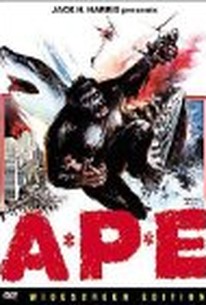 AUDIENCE SCORE
Critic Consensus: No consensus yet.
Movie Info
This laughable Korean rip-off of King Kong was released the same year as Dino De Laurentis's trumpeted remake to sponge up some free hype from that film's massive publicity machine (in some areas it was retitled The New King Kong). Despite the fact that the poorly-handled big-studio film was considered by many to be a pointless exercise, this movie makes De Laurentis' fiasco seem positively inspired by comparison (although the producers of this film might merit some slack -- they didn't have $20 million to blow). The vaguely familiar story involves a captured 36-foot ape who escapes his offshore prison to rampage through the streets of Seoul, where he falls in love with an American actress (Joanna Kerns) who is shooting a movie there. Jam-packed with laughs, both intentional (the big brute gives Korean defense forces the finger) and unintentional (look for the "Tonka" logo on the trucks he hurls through the air), this might have found a home among fans of truly awful cinema thanks to an effective use of 3-D, but TV and video versions are missing this clunker's sole bonus. Released under several alternate titles, the most appropriate being Attack of the Giant Horny Gorilla! ~ Cavett Binion, Rovi
Critic Reviews for Ape (A*P*E ) (Attack of the Giant Horny Gorilla) (Hideous Mutant)
All Critics (4) | Fresh (0) | Rotten (4) | DVD (1)
They managed to get it into theaters two months before the DeLaurentis 'Kong,' reportedly shooting a mere 14 days on a $23,000 budget. Yet if you watch the movie, you'll still wonder what they spent all that time and money on.
Rarely in the annals of cinema has so much plywood and so much lighter fluid been expended in the service of visual effects magic -- be sure to also check out the falling rocks that flake off Styrofoam pieces as they hit the ground.
horrible
April 24, 2008 | Rating: 0/4
Audience Reviews for Ape (A*P*E ) (Attack of the Giant Horny Gorilla) (Hideous Mutant)
Let me Just say our monster movies are horrible and A*P*E is a clear example of that and D-War. We can't make Kaiju films unlike the Japanese i can't deny that, but A*P*E is a fucking insult to my culture and country. Point being there are so many mistakes and errors its just not funny. Its IMBD score is so low they wont even put it in the bottam 100. You Rip-Off King Kong and add my my country (Korea) you get A*P*E or in my country "The Great Counterattack of King-Kong" this 3D Z-Grade film. I will sum it out........A*P*E escapes from a ship (No mention on how they found him). He fights a big rubber shark that doesn't even move.......He picks up a snake and throws it and attacks Seoul and cars blow up without them even touching it.......Then they kill A*P*E and he says... "He is just to big for a small world like ours!" That's it and the whole film. And the errors and flaws are seen so easy and such as... -There are holes in A*P*E's costume and can be seen easy. -He changes Size throwout the film...1 minute he is only small...The next he towers overall all these high buldings. -The shark is dead...Who the fuck can not see that? -He throws a rock and it hits the ground missing the car and it still blows up? -A*P*E doesn't even growl likly it was forgotten to be put in later in Post-Production. The acting is horrible and the effects...The only good part about this film is its somewhat not boring story. I close by saying...I hate this fucking film.
Ariuza koraw
Super Reviewer
½
Director: Paul Leder and Starring Joanna Kerns, Rod Arrants, Nak-hun Lee and Yeon-jeong Woo. Without a doubt this is one of the worst Korean movies ever made and a major rip-off of Dino De Laurentiis version of the 1930s monster movie. Now King Kong's Korean brother A*P*E this Kaiju flick by an Korean/American production really does give us an inside to how bad Korean Kaiju films are I couldn't really get throw the remake of Yonggary noir the original who was Godzilla's Korean brother. But me being a fan of Rip-offs this movie is bad yes but it's better than the 1976 version of King Kong which was just boring, this movie had some reason and was better to view and not get bored. So after finding a 36ft gorilla they capture and take it back to America but it escapes and swims off the coast of Korea, so after having this epic battle with a shark, it start to destroy the city of Seoul then it comes across an American actress. So I need to say anymore? Just think of King Kong. I am not sure why I enjoyed this movie despite everything being flawed easily and so many noticeable mistakes which just makes the movie Z-grade like any film by Ed-wood. But I bought this on DVD a few months ago and finally watched it and the big Plus was that my DVD was in 3D! When A*P*E first came out the movie was shown in 3D, something that the 70s version of king Kong didn't have. And the DVDs from my country have 3D glasses and the film negatives have been improved the overall picture quality to a professional standard. 50% for story: It's amazingly bad but not un-watchable it has a million entertaining fight scenes ranging from Great White Sharks, To Rubber Snakes and A*P*E stomping on Koreans, as well as it destroying cities. But the main negative is that the movie has unneeded sub-plots and some scenes but still, not boring. My personal Favourite scene is where A*P*E flips of the military with his middle figure. [IMG]http://i52.tinypic.com/5l9mxu.jpg[/IMG] 30% for acting: The American Cast are okay BUT OMG THE KOREANS DON'T KNOW WHAT THERE DOING. There are scenes with Koreans Fleeing in terror but they can be seen smiling or just powerwalking it. So they drag down the Americans with them. The Dubbing is horrible you can see their voices aren't moving with their Lips and hear the Eco's from the recording room. 50% for characters: They Rip-off King Kong easy and you can see it obversly but A*P*E was my favourite despite how unconvincing he looks. But overall he makes up for that 50%. 20% for special effects: There terrible and amazingly unconvincing even a 5 year old could see the horrible minutes and effects. In a matter of fact A*P*E changes size in nearly every scene. Anyone can say how bad the suit is and you can even see the actor's t-shirt throw some holes in the ape suit. The trailer says that you are going to see the most epic battle ever with an Ape and Shark. When you see it in the film they are fighting in a Low water Tank filled with Murky water to hide the fact they are standing on concrete. The shark is SO FAKE. Still awesome to watch even though there terrible. 80% for 3D effects: They are cool I won't deny that, and things do come out of the screen so that's a plus to this low budget knock-off. I would say that's the only reason anyone would buy the DVD. 50% for everything else: Well I good soundtrack at least, but overall everything is horrid but cool. So despite it being bad I enjoyed it don't be put off by the 50%. It's bad but still epic and better then the 1970s Kong. Keiko's score 59-100
Terrible, awful, rip-off of King Kong. I like the old arcade game Rampage and the new update. You're a giant gorilla, or lizard, or wolf, or other monster and you smash buildings apart. This does not make a satisfying plot for a movie though! The A*P*E stomps and punches through lots of plywood models, swats at a hang glider and a few helicopters, throws oil barrels and rocks that all explode on contact, and of course wrestles with a rubber shark. It's all done with unbelievably bad effects. In a good portion of the early scenes, which are set at night, you can hardly see the A*P*E. Video clips are looped (especially military vehicles) and audio sound bites are looped (especially the blond actress's screaming) for grating effect. The 3-D tech was such an eye sore. Every time I tilted my head thinking, "Huh!?" or "Really?!," the image merging effect was destroyed. You had to keep your head still. You had to really work at seeing the 3-D depth and it was lame and gimmicky anyways.
Byron Brubaker
Super Reviewer
Ape (A*P*E ) (Attack of the Giant Horny Gorilla) (Hideous Mutant) Quotes
There are no approved quotes yet for this movie.