New World Order
(2009)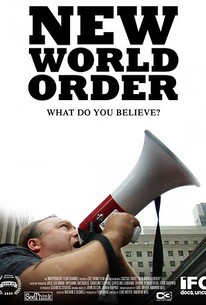 Movie Info
Alex Jones is a radio talk-show host based in Texas who has attracted a passionate following for his commentaries in which he explains his belief that a powerful underground one-world government secretly rules the world. Jones contends that the attacks on the Branch Davidian compound in Waco, TX, were ordered without provocation by Janet Reno and the Bureau of Alcohol, Tobacco and Firearms to silence David Koresh and keep him from spreading his anti-authoritarian philosophy, and that the terrorist attacks of September 11, 2001, were staged by the government in order to strip American citizens of their freedoms in the name of security. Jones has followers and like-minded supporters around the world, and he and his compatriots have faced arrest and jail terms in order to spread the word by staging protests and setting up amateur surveillance operations to monitor the annual meetings of a Bilderberg Group, a private enclave of important figures in politics, economics, and world trade whom Jones (among others) is convinced pull the strings behind the New World Order. Does Jones know something most people don't, or are he and his listeners oddball conspiracy buffs who have come to believe in a bogeyman that doesn't really exist? Filmmakers Luke Meyer and Andrew Neel allow Jones and a handful of his supporters to speak for themselves in the documentary New World Order, which chronicles their ongoing battle against a movement most people don't think is happening. New World Order received its world premiere at the 2009 South by Southwest Film Festival.
Rating:
NR
Genre:
,
Directed By:
In Theaters:
On DVD:
Runtime:
Studio:
SeeThink Productions
Critic Reviews for New World Order
Audience Reviews for New World Order
I have a lot of my own beliefs about 9-11 and secret organizations with aspirations for global domination, but this film doesn't touch on many of them. Alex Jones is far too paranoid to be rational. You can watch him concoct stories right here in the movie; like the scene in the hotel room where the security guy knew his and the kid's name. His behavior there was straight off a 3rd grade playground. Luke Rudowski is the real deal, though. He's smart, committed and logical. People like Alex make anyone with doubts about who's running what look like nutcases. Fortunately there are those like Luke who show us to be normal. We need more Lukes, fewer Alexes. I also find it beyond belief that the same people who believe that 9-11 was an inside job also believe the Christ lie. Come on, guys, THEY'RE THE SAME PEOPLE! The highest reaches of Christianity, Judaism, Islam, and other great religions know their religions are made up. ESPECIALLY Christianity. It was stolen piece by piece from virtually every religion that went before it, and they still modify it to keep the faithful writing those tithe checks. The film has far too much proseletyzing and religion for me.
Jim Chatman
½
An interesting docu- production on the world of 9/11 Truthers, center ring is radiohost/ author Alex Jones. Filmed around the time of his poli/doc/prop film Endgame, it follows Jones and other folks racking the movements of a group of the rich and powerful: The Bilderburg Group. Like most "reality show modern doc style" the people on camera express thier thoughts and is narrated by same. I think most people will be confused as to try to understand what these folks are expressing requires you go down the rabbit hole. Are they crazy? Are they right? Is Jones a modern Tom Paine, is he a Barnum & Bailey or is he a man that is lost on his own journey from the pains and frustrations of the modern age and recent history? History has tons of examples of all 3. However, it also has tons of examples of what worries the folks in this movie. Paranoia or...?????
Bobby Diablo
A new American documentary is putting forward the suggestion the insanely rich and evil of this world are trying to gain total control. The film says they want to manipulate people through fear and the power of money. http://www.youtube.com/watch?v=T3SybY3PTsc&feature=player_embedded "The New World Order is a crime syndicate, established by the ruling elite, the richest people in the world, the one percent that controls over 80 percent of the world's wealth. These are the people who want to set up a one-world government so they can have more power in less people's hands," author Luke Rudkowski says. The "New World Order" is also a controversial new film that goes behind the scenes of the American anti-globalization movement. It's a documentary focusing on those fighting what they claim is a secret group of a wealthy elite that effectively runs the world. Rudkowski says he's a fighter for truth. "We are not crazy people, we are people who just want the truth from our government, and it shows our struggle to get the message across to the American people. It also shows our success, how we have been right all this time, and how we're getting more and more popular," Rudkowski explains Radio talk show host Alex Jones (whose previous interviews are also available at RT) is the main character in the film. "The hottest thing in the world right now is the people discovering the new world order. I mean, finally the Associated Press and other major U.S. newspapers, and British papers had to admit that global elites are meeting in secret to chart the future of the world. It's not just the enemy of people in other nations, it is the enemy of all free humanity," Jones says. Alex Jones and Luke Rudkowski are often criticized and labeled 'conspiracy theorists.' The film itself also got a dose of criticism. 'Tiresome,' 'Tedious documentary,' 'Paranoid and delusional' -- these are just some of the reactions of the New York Times to the film. But all publicity is good publicity -- and the fact of the matter is that even the mainstream is now paying attention and reacting to talk about the New World Order. Directors Andrew Neel and Luke Meyer both say they sought to remain objective and independent from the claims made in the film -- and be as fair as possible. "What we really wanted people to do is just to see these people as human beings, listen to what they were saying, and interpret that for themselves, and then go out and find out more about what they were saying. And then either agree or disagree with it. I support people who try to penetrate that barrier between that which we are told, and that which really is," Neel says. "They are a group of people, who are not willing to accept the status quo, what the generally accepted story is. Myself and Andrew as well have a strong interest in hearing about people who are willing to take that jump," Meyer says. The people featured in the film say it will bring the truth about the New World Order one step closer to being understood by the American public and the world.
Anthony DeLelles
New World Order Quotes
There are no approved quotes yet for this movie.
Discussion Forum
Discuss New World Order on our Movie forum!