Bananas!
(2009)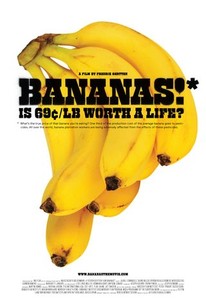 Movie Info
This documentary from filmmaker Fredrik Gertten observes the legal experiences of 12 workers on a banana plantation in Nicaragua, who hire Cuban-American attorney Juan Dominguez for representation in their class-action lawsuit against corporate giant Dole Foods. The suit finds its plaintiffs accusing Dole of causing infertility en masse among their population thanks to the use of the DBCP crop pesticide - a chemical banned in the United States four years prior, but still used in Nicaragua after that ban despite Dole's full awareness of the dangers present. The legal battle itself occupies center stage; though the plaintiffs' attorney Duane Miller presents his clients as traumatized, corporately-violated victims, the attorney representing dole paints them as drunks and liars - leading to a heated, highly aggressive courtroom showdown. ~ Nathan Southern, Rovi
Critic Reviews for Bananas!
Audience Reviews for Bananas!
This film told a compelling story the whole way through, only to tack on an ending saying that the hero may not be a hero. An interesting tale of developing-world labourers taking on a multinational corporation - Standard Fruit Company (Dole) - that keeps your interest the whole way... until you find out (not a spoiler, this is all over the internet) that the lawyer prosecuting the suit has been charged with fraud. Dole is attempting to say that the evidence was fabricated. Maybe the labourers don't speak enough English, or they don't remember, or maybe, they changed their stories trying to get a big award to take back to their communities. In any case, this was a feel-good story that unfortunately, doesn't make me feel good anymore. In 10 years, though, once ALL the parts of the case are wrapped up, and a fictionalized version comes out, maybe this will work better. Actually, just start a series of Erin Brokovich movies, like Rambo but in a courtroom...
Daniel Perry
Super Reviewer
Bananas! Quotes
There are no approved quotes yet for this movie.