Stella
(2008)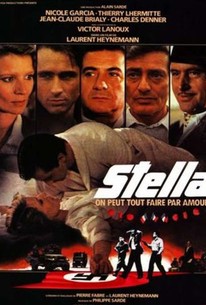 AUDIENCE SCORE
Critic Consensus: No consensus yet.
Movie Info
A street-smart girl is given a crash course in how the other half lives in this bittersweet comedy from writer and director Sylvie Verheyde. Eleven year old Stella (Leora Barbara) is the daughter of Roselyne (Karole Rocher), a currently single mother who runs a tavern in a working-class neighborhood in Paris. Stella is used to helping out her mom at work and knows a lot more about football, mixing drinks and what's popular on the jukebox than nearly any girl her age. But none of this proves very helpful to Stella when to her surprise she's transferred to a school in one of the city's mot upscale communities. Stella is a thorough misfit at the school and doesn't do especially well in her classes; eventually she makes friends with Gladys (Melissa Rodrigues), the smartest girl in her class, who introduces Stella to the world of great literature. Stella finds that books teach her some valuable lessons about how to deal with others, but she's not sure how much her new studies will help her in the real world; Stella is also wrestling with a crush on Alain-Bernard (Guillaume Depardieu), a regular at the bar and a good friend of her mother who is a font of information that shouldn't be useful to an average 11-year-old. Stella was an official selection at the 2009 Seattle International Film Festival.
Critic Reviews for Stella
All Critics (3) | Fresh (2) | Rotten (1)
This is about the life-changing little things that happen to us all, which makes it all the more affecting.
Verheyde does a terrific job conveying the mind set of an eleven-year-old girl with expert direction of a talented trio of inexperienced actresses.
pashei ap' to synithes ton aytobiografikon afigimaton, poy einai i pepoithisi ton dimioyrgon toys oti i alitheia tis istorias toys, ftanei apo moni tis na paiksei to rolo dramatoyrgias kai dramatikotitas ikanis na se kratisei mazi tis gia poly pera ap' to
Audience Reviews for Stella
Maybe a modern "Les quatre cents coups". The image of "the France of today". * Stella´s jacket (an the scene where´s walking in a sort of mall, while the teachers decide if she will be approved or not) reminded me of Christiane F. Probably an indirect influence/reference.
Rubia Carolina
Super Reviewer
Have we seen it before?It's possible.All of a sudden,this burst of outlandish situations is what makes little Stella a diverse character on-screen,like she has jumped from an Andersen fairytale engulfed with the most satirical elements from Nouvelle Vague.Barbara is fierce and romantic in her acting,in that her inexperience transforms to a lullaby of anarchy.
Dimitris Springer
Super Reviewer
Stella Quotes
There are no approved quotes yet for this movie.