Manson, My Name Is Evil
(2009)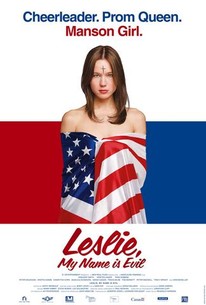 Manson, My Name Is Evil Photos
Movie Info
A straight-laced chemist begins questioning society's standards and confronting his own darkest desires after falling for the all-American homecoming queen who joined a hippie death cult and made headlines for her murderous exploits. Perry (Gregory Smith) is your typical God-fearing American: A diligent academic who landed a good job at a chemical company before proposing to his Christian girlfriend Dorothy (Kristin Adams), he always did right by the Lord and his parents. But while Perry was always fortunate in life, Leslie was irreparably damaged by her parents' divorce, an abortion, and the assassination of President John F. Kennedy. Following Timothy Leary's advice to "tune in, turn on, and drop out," the former cheerleader joined up with charismatic cult leader Charles Manson and helped his gang slaughter an upstanding citizen in her own home. Now Perry has been chosen to serve on the jury that will decide Leslie's fate. The moment Perry and Leslie lock eyes in the courtroom, the sheltered chemist is hopelessly smitten. Could their wildly divergent paths somehow converge? The more Perry learns about Leslie the stronger his infatuation grows, and the more he begins to question the rules that society has imposed on them both. ~ Jason Buchanan, Rovi
Critic Reviews for Manson, My Name Is Evil
Audience Reviews for Manson, My Name Is Evil
Well, this is not Helter Skelter. It is kind of odd. The cuts to old footage of the era were okay, but looked off at times. The acting in this movie is ok. I guess it was supposed to be a dark comedy, but I can't say that I chuckled even once.
Cynthia S.
Super Reviewer
½
An interesting take on Charles Mansons story and followers but a bit too arthouse and satirical for my liking. I left it on to see if it was going to get better but I just lost interest in it and then it was over. Not recommended! They just need to stop making movies about him its getting old and tiresome.
Matt Slash
Super Reviewer
Terrible. The acting was horrendous, the scenes did not flow well at all, and the storyline was all over the place.
Erin Collins
Super Reviewer
Manson, My Name Is Evil Quotes
There are no approved quotes yet for this movie.