Mutants
(2009)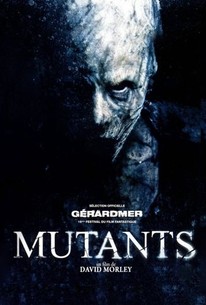 AUDIENCE SCORE
Critic Consensus: No consensus yet.
Movie Info
The father of her unborn child infected with a highly-contagious virus that turns humans into rampaging, primal killers, terrified Sonia (Hélène de Fougerolles) watches in horror as his condition deteriorates, and then fights to the death against the man she loves most.
Critic Reviews for Mutants
All Critics (3) | Fresh (2) | Rotten (1) | DVD (1)
Fans of zombie films may be a little sorry that so much of the film is familiar. This is a one viewing film. But for that one viewing is a polished work.
March 24, 2010 | Rating: 6/10
Certainly does infuse its own distinct brand of emotional horror into a story that generally only works on a physical level.
Audience Reviews for Mutants
This is NOT a zombie movie. The creatures in this movie are mutants...NOT the same..... This film tones down the cannibalistic gore a tad (we're all used to it by now) in favor of icky-ness and queasiness - lots of coughing up blood, clumps of hair and teeth falling out, violent convulsions...etc., and maintains an air of suspense and dread throughout. Don't watch this if you are looking for a "zombie" movie. This movie has an emotional slower pace for us drama lovers..and a little excitement and gore for the rest (which includes me, too).
Cynthia S.
Super Reviewer
½
A good little film this. The main problem with it though is the lack of originallity. Like so many zombie/infection type movies these days it borrows heavily in both style and plot from "28 Days Later", though in this case the film focuses more on the slow transformation process from human to fleash-eating maniac rather than it being an instantaneous thing like in Danny Boyle's film. The plot in this one is very vague and cliched but the film delivers plenty of disgusting blood and gore throughout. It over-does the shakey-cam stuff during the action sequences a bit, which doesn't usually bother me so prepare for that. Good performances by the two lead actors providing some convincing dramatic moments during the middle part of the movie. It's a short and sweet experience with nothing really fresh to add to the genre but I thought it was gripping and gruesome enough.
½
Was very disappointed by this, the first zombie film of the New wave of French horror released to the US. Setting and cinematography were stunning but the primary problem is that this is not only heavily trampled premise ground for this genre, this movie does not deliver on it. The central theme here is about the struggle to kill an infected loved one, and the movie attempts to set that theme against a nihilistic backdrop. Unfortunately the nihilistic "we're all going to die. everyone is going to die." tension overwhelms the shaky attempt at giving us two central characters to care about. As a result, this is a misguided delay from the necessary killing of an infected love one which leaves the audience screaming "oh get on with it already!" for forty minutes, as opposed to evoking the desired sobs of empathy from the audience at the climatic "Of Mice and Men" moment we hoped would never come. I couldn't really appreciate the final makeup look of the "mutants" because I think more traditional zombies would have done better for this story. I've come to accept that the rage zombie is trendy; and it seems this is the latest attempt to assign this subset of infected ghouls a name, in this case "mutants". But let's face it - if the world's gone to shit because people have become uncontrollable cannibals and the few left alive are small groups in isolated areas, struggling with their own personal conflicts, trivial when compared to the sweeping apocalyptic world surround them, which will ironically be their ultimate undoing - then you're in the "zombie genre" that Romero made.
_kelly .King
Super Reviewer
Mutants Quotes
There are no approved quotes yet for this movie.