High Life
(2009)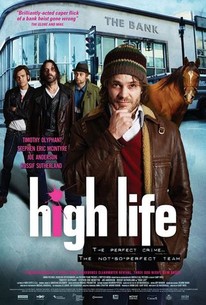 Movie Info
A handful of drug-addicted petty criminals discover their plan to pull off the perfect crime isn't quite perfect at all in this dark fusion of comedy and action from director Gary Yates. It's 1983, and Bug (Stephen Eric McIntyre) has just been released from prison. Bug meets up with his friend and former cellmate Dick (Timothy Olyphant), who is working as part of the cleaning crew at a hospital; it's Dick's first on-the-books job, and it provides him with a steady paycheck as well as an opportunity to steal drugs to feed his appetite for opiates. Thanks to Bug, Dick is quickly fired, but Bug soon gets an idea for a quick and lucrative score. Automated Teller Machines have become a common item while Bug was in stir, and he hatches a clever plot to rob a bank's ATM machines by posing as repairmen. Dick thinks Bug's scheme can actually work, and they recruit two guys to help pull the job, small-time thief Donnie (Joe Anderson) and Billy (Rossif Sutherland), a fellow junkie Dick meets at a twelve-step meeting. However good the plan looked on paper, once Dick and Bug meet up with Donnie and Billy to pull the job, it becomes obvious things aren't panning out and their partners in crime are even less dependable than they are. High Life was based on the play of the same name by Lee MacDougall, who also wrote the screenplay for the film.
Critic Reviews for High Life
Audience Reviews for High Life
Probably the most unique role I've seen Timothy Olyphant do, and it worked pretty well. Not exactly a laugh-a-minute comedy, but it generally works as a heist gone wrong dramedy, appropriately set in the early 80s. At 80 minutes it never amounts to much, but I appreciated most of the dark sense of humor, and what seems to be a fairly realistic depiction of how addicts think. 3/5 Stars
Jeffrey Meyers
Super Reviewer
Once again I notice the low rating from some people, but I personally really enjoyed this movie. I admit that I am a Tim Olyphant fan, so maybe I am a little biased. I dont think that is the case, though. I truly got a kick out of this movie. It is a black comedy, of sorts, so that makes me like it even more. All in all good flick.
Cynthia S.
Super Reviewer
Brilliant failed heist movie. Ex con Olyphant and his buddies try to work out a violence free hijacking which fails miserably in every way. Superb story, great acting and the sense of humour made me laugh throughout.
Barry Lappin
Super Reviewer
High Life Quotes
| | |
| --- | --- |
| Bug: | Just because you hit someone and they die, doesn't mean you killed them. |
| | |
| --- | --- |
| Dick: | We need Donnie. We need his perfect little criminal mind. |